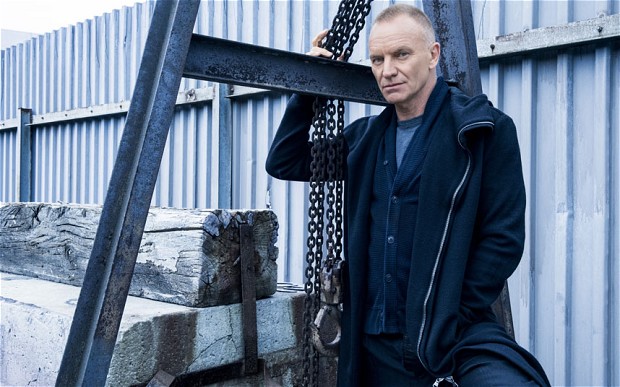 Sting: The Last Ship will air on THIRTEEN's Great Performances , Friday, February 21 at 9 p.m., ET on PBS (check local listings) and features the 16-time Grammy Award-winning musician performing songs from his new album, The Last Ship, and forthcoming play of the same name in an intimate evening of music and storytelling live at The Public Theater in New York City.
The program offers unique insight into the creative process behind Sting's latest album and his new musical, premiering June 2014 in Chicago before its debut on Broadway in the fall.  Drawing upon his childhood memories growing up in the shipbuilding community of Wallsend in the North East of England, Sting provides a glimpse into the narrative of the play through the songs on the new album, inspired by the story of "The Last Ship."
He is joined by a 14-piece band, many of whom also hail from the region (Kathryn Tickell on violin and Northumbrian pipes, Peter Tickell on violin and mandolin, Julian Sutton on the melodeon, and vocalists The Wilson Family), including actor and singer Jimmy Nail, who will appear in the upcoming stage production. Also featured is Musical Director Rob Mathes on acoustic guitar, piano and keyboards, and background vocals.
The evening was filmed on Sting's birthday (October 2) at a special fan club performance during a 10-night run of benefit concerts that immediately became one of New York's hottest tickets. The Public Theater's Artistic Director Oskar Eustis observed at the time, "The Last Ship' is shaping up to be a masterpiece, both an elegy for and a celebration of the working class life of the Newcastle shipyards."
Sting has crafted a richly diverse musical landscape for a close-knit community of original characters. With a backdrop of evocative visual projections, he shares his experience emerging from a songwriting hiatus to pen his first album of original material in nearly a decade and his very first musical theater score, incorporating a mix of genres and styles ranging from pub-like folk tunes to ballads to a wall of sound from the full band.
"The memories at the heart of The Last Ship have occupied my mind for most of my life," said Sting. "I was compelled to tell this story." Sting's collaborators on the Broadway-bound production include the Tony-winning team of book writers John Logan ("Red," "I'll Eat You Last") and Brian Yorkey ("Next to Normal") along with director Joe Mantello ("Wicked").