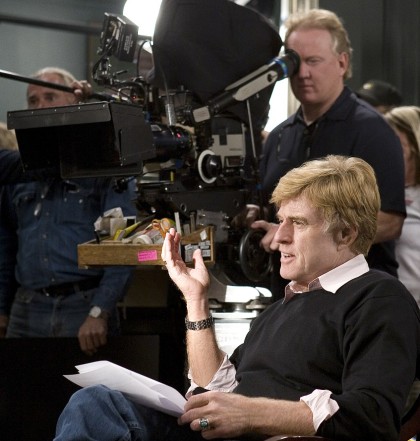 Discovery Channel announces today that it is in production of an all-new series, THE WEST, produced for Discovery by Robert Redford and Laura Michalchyshyn's Sundance Productions, who recently produced Discovery Channel's Emmy Award nominated documentary All the President's Men Revisited, and Stephen David Entertainment, known for its two-time Emmy Award winning series, The Men Who Built America. THE WEST will provide unprecedented access into the wilderness, frontier lawlessness, and bloodshed of the 40 years between the end of the American Civil War and after the turn of the 20th Century, when the west was won. THE WEST is set to premiere in 2014.
"THE WEST will expose the triumphs, tragedies and legendary characters who gave rise to the taming of the American West," said Eileen O'Neill, Group President of Discovery and TLC Networks. "We are excited to partner with Stephen David Entertainment and again with Robert Redford and Sundance Productions to bring these enduring stories to Discovery."
"The stories of the American West are epic and profound with some of the biggest, most renowned and mythologized characters," said Robert Redford and Laura Michalchyshyn, Sundance Productions. "We are thrilled to be partnering with Stephen David to bring this series to the world."  
"After the Civil War, the Western frontier becomes this place where if you wanted something, you took it," said Stephen David of Stephen David Entertainment. "Whether you were fighting for land, money or pride, sooner or later, you found yourself on one end of a gun or another."
"We are delighted to be working on such an exciting project with two incredibly talented production companies," said Jeremy Fox, CEO, DRG. As one of Discovery's tent pole series for 2014, we can't wait to take it out to the international market."
From Jesse James and Crazy Horse to Wyatt Earp and Buffalo Bill, the characters at the center of this violent, blood-soaked period in American history are explored. Each episode of THE WEST will follow the stories and struggles of the West's most infamous outlaws as they fight for their land and identity. The American Dream belonged to those brave enough to claim it and THE WEST encapsulates the world of chaos, turmoil and opportunity during the notorious fight for the American west.
DRG, an independent distributor of content representing a host of internationally recognized production companies, has acquired international rights to distribute THE WEST outside of North America.
For Stephen David Entertainment, Stephen David is Executive Producer and for Sundance Productions, Robert Redford and Laura Michalchyshyn will serve as Executive Producers. Michael Sorensen is Executive Producer for Discovery Channel.