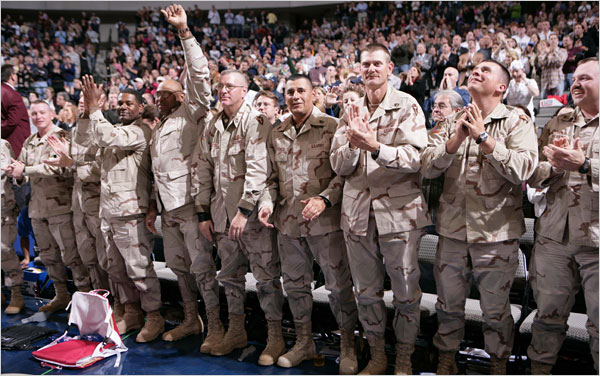 American Airlines and the Dallas Mavericks are partnering for the ninth year to host "Seats for Soldiers," a unique experience for our nation's military heroes. This year, more than 100 wounded service members will travel from Brooke Army Medical Center in San Antonio to join reserve troops in the Dallas/Fort Worth area in attending the Dallas Mavericks vs. Milwaukee Bucks game on Dec. 14at American Airlines Center.
"Being able to give back to the men and women who serve our country means a tremendous amount to all of us at American Airlines," said John Hale, American's vice president – Flight. "Knowing what these soldiers have been through, it's humbling to be able to provide them with a night of fun and joy, especially around the holidays. This program is one of our many efforts to say thanks to all U.S. military veterans."
American Airlines will provide transportation between Dallas/Fort Worth and San Antonio through Fuel Smart, its employee-led fuel conservation program that partners with American's Veterans Initiatives by providing many flights for wounded warriors and veterans using funds generated through employees' everyday actions to save fuel.
Upon arrival at Dallas/Fort Worth International Airport, the group will enjoy dinner at Abacus prior to attending the Mavericks-Bucks game. Abacus owner and executive chef Kent Rathbun has developed a special menu featuring country ham wrapped jambalaya cakes with etouffee sauce, wood roasted Allen Brothers prime rib, smoked pecan-cranberry green beans, chocolate truffle cake, and malted milk chocolate ice cream. 
After the game, the soldiers will have the opportunity to meet and have their photos taken with the Mavs Dancers and Mavs ManiAACs, as well as players and coaches from both teams.
"This event is always a memorable experience for everyone attending that game," said Dallas Mavericks owner Mark Cuban. "We love that this event originated with a single fan and has continued to grow year after year. It's an inspiring reminder of the amazing people that comprise our community."
Dallas Mavericks season ticket holder Neal Hawks originated the concept, and he and other front-row season ticket holders have again generously donated their courtside seats, valued at more than $350,000.