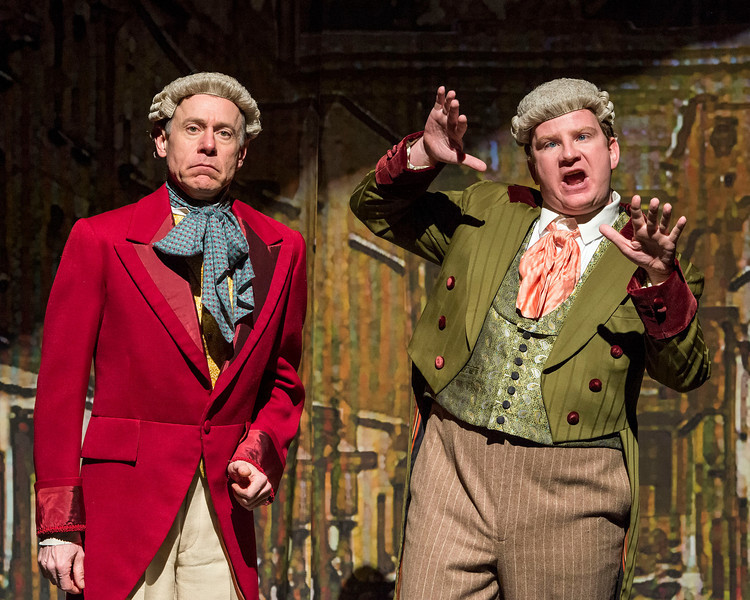 The Second City's "A Christmas Carol: Twist Your Dickens!" opens this Thursday, December 12 at 8 p.m. at the Center Theatre Group/ Kirk Douglas Theatre. Written by Second City alumni Peter Gwinn and Bobby Mort and directed by fellow Second City alum Marc Warzecha, "A Christmas Carol: Twist Your Dickens!" continues through December 29, 2013.
The cast is made up of a talented group of Second City performers. Returning to "Twist Your Dickens!" for the second time are Frank Caeti, Amanda Blake Davis and Ron West.  Joining them are Ithamar Enriquez, Brendan Jennings, Joe Liss and Jaime Moyer.  The production changes nightly as this highly honed team of improvisational all-stars will be joined by a surprise celebrity guest and a parade of anonymous revelations of 'misdeeds past' from each performance's audience members. 
Created in collaboration with CTG, The Second City's satirical twist on Dickens features Scrooge, the Cratchits and all the time-traveling ghosts normally found in this uplifting holiday fare. "Twist Your Dickens!" also breathes new life into the classic tale of hope and redemption with audience-interactive improvisations and a festive party atmosphere in the lobby – complete with the cocktails such as Tiny Timtinis and Scroogedrivers to prime the pump for next year's misdeeds.
As the Los Angeles Times' Charles McNulty noted last year, "… this twist on Dickens is good medicine for a harried season. …" CTG is thrilled that the yuletide comedy pharmacy will be open and dispensing liberally again this year. "A Christmas Carol: Twist Your Dickens!" has set design by Tom Buderwitz, costume design by Leah Piehl, lighting design by Brandon Baruch and sound design by Cricket S. Myers and the production stage manager is Kirsten Parker.
The Second City specializes in sketch comedy and improvisation and has delighted audiences for over 50 years. With resident stages in Chicago and Toronto and touring ensembles, The Second City entertains over a million guests each year. It is also the largest training center in the world for improvisation, sketch and acting, with schools in Los Angeles, Chicago and Toronto, and 20,000 registrations per year. The Second City served as a training ground for a host of famous alumni, including Mike Myers, Bill Murray, Gilda Radner, John Candy, John Belushi, Catherine O'Hara, Tina Fey, Steve Carell, Stephen Colbert and more. Colbert said, "The Second City was everything to me," and Murray said, "Second City is the best job anybody in the American theatre can get.  It's incomparable." The New York Times reported that "The entire recent tradition of American satire can be summed up in three words: The Second City."
Tickets are available at www.CenterTheatreGroup.org, the CTG box office located at the Ahmanson Theatre or by calling (213) 628-2772.