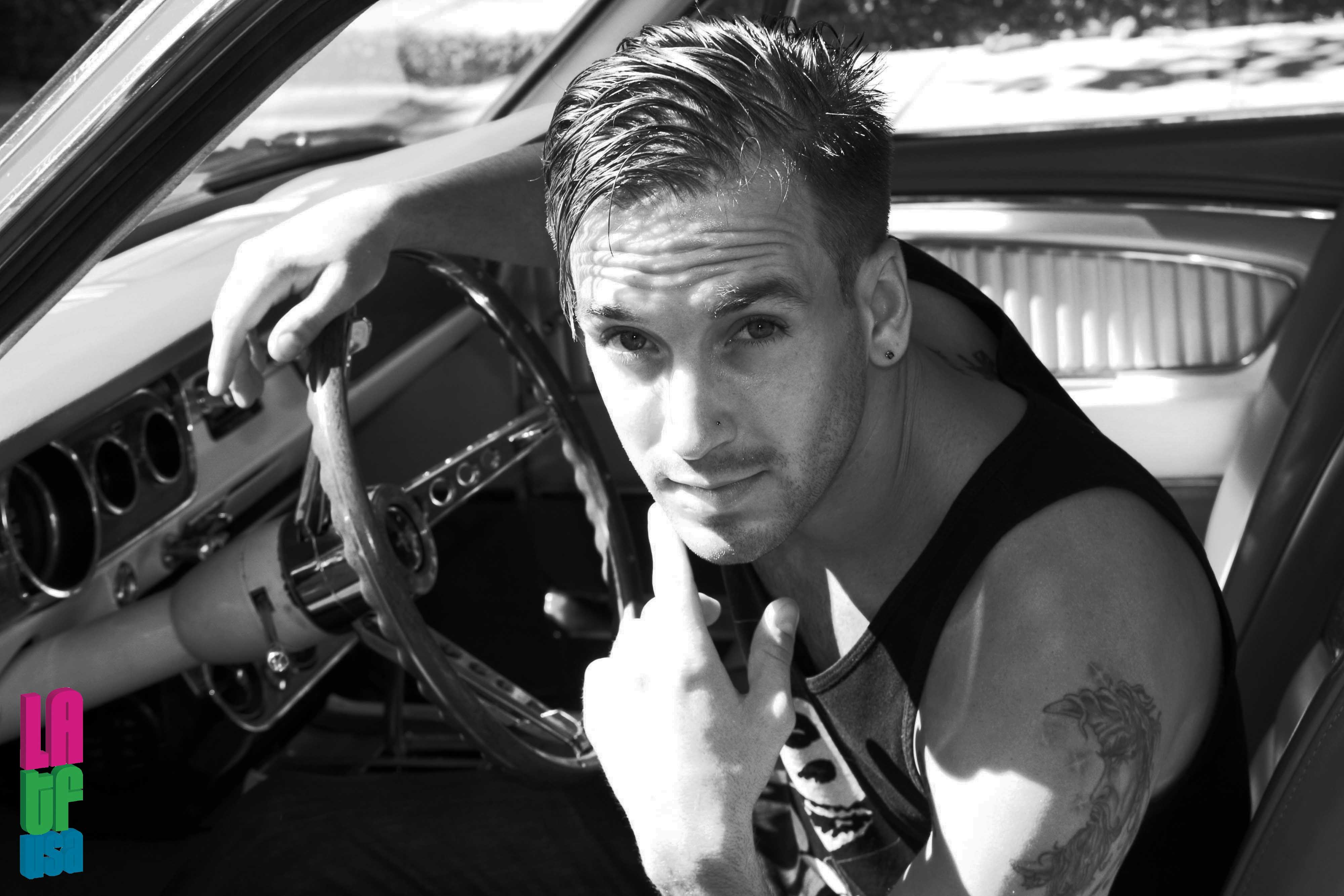 There are many tragic moments in American history that are rooted in our minds. From the assassination of President Lincoln to Martin Luther King, Jr., we are reminded of the leaders we've lost along the way on the anniversary of their deaths. But there is one instance that is perhaps filled with the most intrigue of them all: the day President John F. Kennedy, Jr. was shot and killed in Dallas, Texas. Those six seconds in which JFK was murdered in cold blood on November 22nd, 1963 has spawned over a dozen documentaries and feature films. Although an investigation concluded that Lee Harvey Oswald acted alone, it is believed by many to have been a conspiracy. Most movies have told the story from one point of view, but never has one turned the tables and followed Oswald in depth.
As we remember our 35th President on the 50th Anniversary of his assassination, National Geographic presents the TV film "Killing Kennedy." Based on the best-selling book by Bill O'Reilly and Martin Dugard, it chronicles the buildup to that fateful day. This perspective allows one to meet and, in a way, understand Lee Harvey Oswald; especially thanks to the performance of actor Will Rothhaar. As the audience follows Oswald from Russia to his first assassination attempt on U.S. Major General Edwin Walker, Rothhaar shows the killer's sensitive and unstable traits. His dark and impressive portrayal is supported by an equally pristine cast with Rob Lowe as JFK, Ginnifer Goodwin as Jacqueline Kennedy and Michelle Trachtenberg as Marina Oswald. Although Will has appeared and starred in numerous films and TV series, from "Last Resort" to "Battle Los Angeles," this role Will be the one to launch the 26 year-old actor to a higher ground of success; opening new doors for his career. Hand in hand, "Killing Kennedy" and Will's acting are memorable.
Just before setting off on the movie's press tour, I had the fortunate experience of sitting down with Will to discuss the challenges and rewards of his demanding breakthrough performance.
There are a lot of misconceptions about Lee Harvey Oswald. Some think he did not act alone in assassinating JFK. What do you believe?
I don't necessarily think that he acted alone. But, the thing is that there are a ton of conspiracy theories out there. And what's cool about "Killing Kennedy" is that it is really a rabbit hole that goes so deep. We're never going to know because everybody is dead. I mean, Ruby's dead, Kennedy's dead, and Oswald's dead — but, that being said, I have my own opinions about what happened. Doing this film didn't change that at all. The interesting thing about this particular project is that we're telling the facts of what we know happened as far as how the country accepts it, which is through the Warren Commission. And basically just that Oswald was a single shooter and that's the side we tell. There are many different ways to tell the story, but this is the version that we're doing right now.
How did this project fall into your hands?
It was like any other audition. I made a tape and it was a course of two or three weeks of going back and forth with casting and whatnot. Then I finally got a call on a Friday evening, and they were like, 'They love your tape, just sit tight.' And then the very next week, I walked out of the barber shop and I got an e-mail. One of the agents in the office was like, 'Congratulations on the offer,' and I was like, 'I haven't heard about it —what do you mean?' And he called me and said, 'You gotta act excited when your agents call you. I didn't mean to spill the beans, but…'
How was it for you to step into the shoes of an accused killer?
It was incredible. For a little while, when I was first doing research on this, it took a minute for me to really step into him, because I was trying to find the crack that was going to let me. One night I was in my hotel room in Richmond, Virginia — which is where we shot the film — and I was thinking about the things that happen to a child that mold you into who you end up being later on. I found myself thinking about how grateful I was to grow up in a home with two parents who were very loving. I realized how much of that Oswald didn't have. His father died of a massive heart attack just before he was born and his mom picked up and moved him around to so many different cities. She put him in an orphanage for a little while and sent his brothers away to boarding school. He never had a chance to put down any roots and never had a chance to have a permanent group of friends. He grew up in a house that was full of neglect, and there wasn't love there.
When you factor that in, I think that his reasons behind doing it — if nothing else — were because he wanted to be seen. He wanted somebody to pay attention to him for once. And what's the fastest way to do that? You shoot a President. I suddenly was overcome with this overwhelming sense of understanding for him. And I was just so sad for him. He built this world for himself which he lived in, and it was hard for him to branch out. I mean, now you read interviews of friends that he had in Russia and people that knew him in a social setting, and he was just a very articulate, well-spoken kid. Really bright, very opinionated, and knew what he was talking about.
I just finally got to see him as a human being and that is what I and Nelson McCormick, our director, when we first started the project, wanted him to be. He's always been seen as a two-dimensional villain, so we wanted to bring a human side to him.
Did you read Bill O'Reilly's book "Killing Kennedy" which the film is based on?
Yes. It's pretty on point. Our screenwriter Kelly Masterson really lifted everything from the book in a really positive, solid way. He got all the key points; he got everything. It's basically a story of these two trains on opposite sides of the universe just colliding in this one moment, and everything in between — it was very accurate.
Your role required you to speak Russian. Did you have to learn?
I don't speak Russian; I'm fluent in Spanish. Michelle [Tractenberg] is fluent in Russian and basically 85% of her role was done in Russian. We have certain scenes where she would discuss a couple of lines that I could say in Russian. Then she would fire something at me in Russian, I would say something back at her, and then I would maybe put it in context/in English for the audience. There were some lines where I was able to throw that in.
Were you able to speak to either of Lee's daughters at all?
I haven't. And his wife — Marina — is still alive, too, along with his mother. Marina still maintains the belief that he's innocent. I wonder if after this comes out, I'll get a call from her or something like that. I'm a little curious to know what they think. I would love to talk to them.
You didn't have any scenes together but did you get to meet Rob Lowe?
Oh yeah, for sure. I mean, Kennedy and Oswald never occupied the same space, so I didn't get to work with him, but I did get to spend some time with him and he's a fantastic human being.
How do you feel about being part of one of National Geographic's biggest projects?
I think it's fantastic. I love working with NatGeo/ National Geographic channel — they're a wonderful group of people and they've taken care of us so well from Day 1. I would work for them again. And "Killing Lincoln" [which aired on National Geographic] was hugely successful, and the interesting thing is that Lincoln was popular in the U.S. for the most part, and Kennedy was popular in the world all over. I mean, everybody adored him.
Do you think this project will do great things for your career?
I hope so. I just think the second that you start thinking there's a "there" to get to, or when you think, 'Oh, there's a point in my career that I want to get to' — that's when you start to fall. But I think this is just one project hopefully in a line of more, because I've been doing this since I was four years old, and this has been my career and it's my life. I really love it, so hopefully I'll just keep the ball rolling and keep on to something else. Hopefully it'll bring me some more work — that would be nice.
Your parents are actors, directors, and playwrights — Did you feel like acting was always your calling?
My dad was the managing director of a theater in South Central Pennsylvania called the Allenberry Playhouse and my mom was in a lot of the shows. When I was a toddler, they put my playpen in the pit during musical tech. I was hanging out down there so they could keep an eye on me. As I started to get a little older, I'd go and hang out with the actors on their cigarette breaks, and finally my dad was directing "Cat on a Hot Tin Roof" one year, and he was like, 'I got a role for you; want to do it?' and I said, 'Yeah, why not?' And then they decided they wanted to do film and television, so we all moved to LA. What I'm really grateful for is that my parents are pretty fantastic people. They were always presenting options for me, saying things like, 'Here's what mom and dad do, and you can do this if you want, but if you don't want to do it, you don't have to. And if you stop having fun, don't do it.' To this day, my mom says, 'Honey, if you love to do something more than this, go do that.'
Did you study acting?
Not technically, because any time I had auditions, I would just kind of run lines with my parents. My parents were big believers of the fact that if you go to an acting class at that age when your mind and personality are being molded and you're figuring out the beginnings of you as a human being in this existence, you're learning somebody else's process. Someone is teaching you their process, so whatever that is, is going to hinder any kind of natural ability that you have.
I took a three week Shakespeare intensive workshop when I was 16 in Sedona, Arizona which was awesome. I'm named after Shakespeare. I was raised on the language. My mom started this company in LA called Salty Shakespeare, and they do flash mob Shakespeare scenes all over LA, like at farmer's markets and downtown elevators.
That's great.
She and her writing partner kind of condense everything, because with Shakespeare there was a lot of repetition. Hamlet's a four-and-a-half hour, five-act show, and there was repetition because people were coming in and out of the theater as they pleased. So if you take that out, you'd end up with a show that was about an hour and fifteen minutes long.
When you're shooting for a certain period of time, do you stay in character when the camera stops rolling?
No, I don't believe in the method process. I think that's cool if that's your technique and if you need to do that, but personally, I was raised with theater actors where my father was like, 'Look, when the camera's roll, you can be Lee, but when they cut, you be Will.' And that's part of me on set — I talk to everybody. I'm around with the grips and the electricians. Acting should be like a light switch. Unless I'm doing six hours where I have to cry and hold one emotion for a long scene, — I'll go off and stand in the corner by myself. I'm not going to stay in character the entire time.
Out of all the roles you've played thus far, which one has been the most fun, but also the most rewarding?
I think this pretty much tops it. I mean, I've gotten the chance to work with a lot of incredible people, and in a lot of really amazing projects and roles, but I think this definitely takes the cake as of right now. But again, I want to be doing this until they nail me in a box.
When you're not portraying all different kinds of characters and you're just Will, what do you like to do?
I do a lot. I'm a musician as well. I play auxiliary percussion for a couple of different acoustic sets — a couple of bands in LA. I love to sing — whether I do it with any kind of skill at all remains to be seen.
Read more in Issue 39 of www.latfthemagazine.com