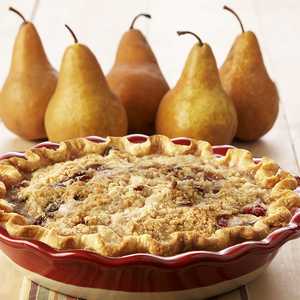 In our Thanksgiving recipe series, we've decided to work our way backwards. Let's start with dessert! This one is courtesy of Kraft – the scrumptious Apple-Pear Crumble Pie. You won't be able to get the family to leave with this sweet pie:
What You Need:
24
NILLA Wafer
s, crushed (about 3/4 cup)
1/4
cup  packed
brown sugar
1
ready-to-use refrigerated pie crust
(1/2 of 14.1-oz. pkg.)
4
oz.   (1/2 of 8-oz. pkg.)
PHILADELPHIA Cream Cheese
, softened
2
large  baking
apple
s, peeled, sliced
1
large  
pear
, peeled, sliced
1/3
cup  
granulated sugar
1/2
tsp.  
ground cinnamon
1-1/4
cups  thawed
COOL WHIP Whipped Topping
What To Do:

HEAT oven to 375ºF.
MIX wafer crumbs, brown sugar and butter until blended.
PLACE pie crust in 9-inch pie plate sprayed with cooking spray. Spread cream cheese carefully onto bottom of crust; sprinkle with half the crumb mixture. Combine fruit in large bowl. Add granulated sugar, flour and cinnamon; toss to coat. Spoon over crumb layer in crust; sprinkle with remaining crumb mixture.
BAKE 35 min. or until fruit is tender and crust is lightly browned, covering loosely with foil after 25 min. if necessary to prevent crust from overbrowning. Cool.
SERVE topped with COOL WHIP.