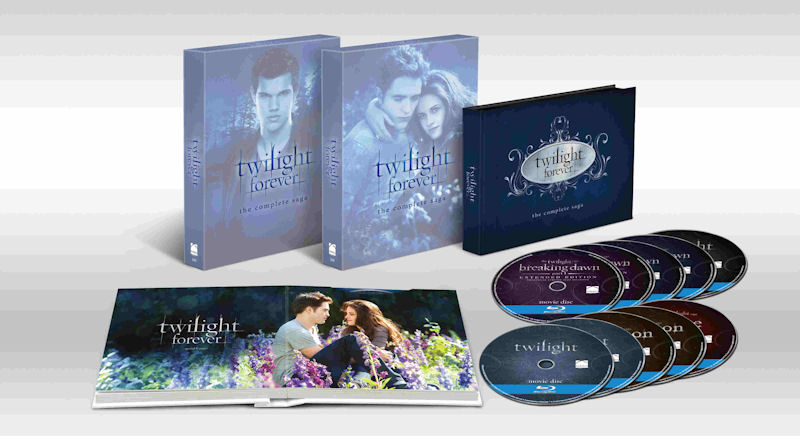 Timed to celebrate the fifth anniversary of The Twilight Saga's original theatrical debut, fans are invited to relive the immortal love story with Twilight Forever: The Complete Saga, available as a 10-disc Blu-ray (plus Digital HD UltraViolet) set and as a 12-disc DVD (plus Digital UltraViolet) set debuting November 5, 2013 from Summit Entertainment, a LIONSGATE company. 
Twilight Forever: The Complete Saga encompasses all five films, over 2 hours of brand new exclusive content and over 10 hours of every special feature ever created for the multi-billion dollar franchise. Twilight Forever: The Complete Saga is the ultimate collector's set, an immersive experience for every Twilight fan to recapture and relive the most epic romance of the century.
 
The all-new material featured in this complete collection includes a cast retrospective with new interviews; "The Twilight Saga: Breaking Character" which showcases previously unreleased behind-the-scenes moments on set; an exploration of the epic's "Twilight FAN-omenon" and individually highlights Edward and Jacob's stories in "Twilight Forever: Edward's Saga" and "Twilight Forever: Jacob's Saga." These new features will be available alongside the over 10 hours of bonus material released via previous home entertainment editions that includes multi-part "making of" documentaries, behind-the-scenes featurettes, cast and crew interviews, deleted and extended scenes, photo galleries, red carpet footage,  music videos and more.
 
Twilight Forever: The Complete Saga debuts as a 10-disc Blu-ray set for the suggested retail price of $74.99, and a 12-disc DVD set for $64.98.