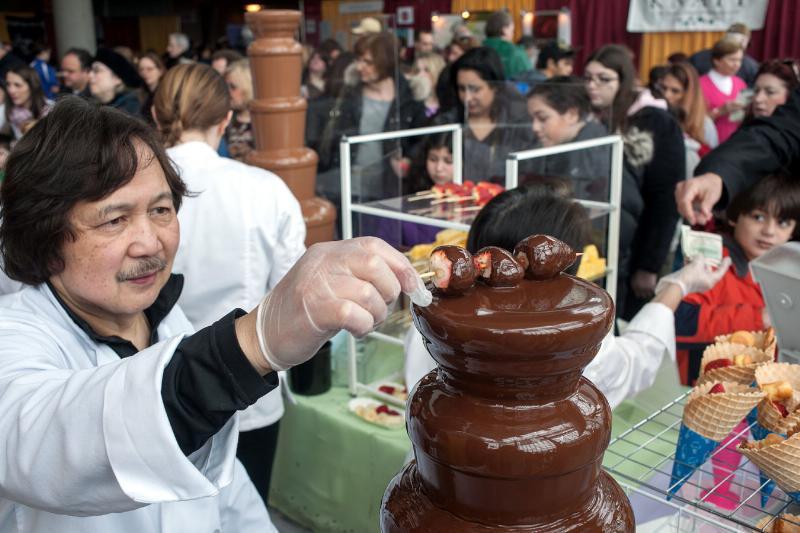 National Chocolate Day will be celebrated at the Chocolate World Expo, the region's only major chocolate festival in 2013, which will take place on Sunday, Nov. 3, 11 a.m. through 6 p.m., at the Westchester County Center in nearby White Plains.
Chocolate World Expo attendees will get to taste, purchase and otherwise indulge in a variety of gourmet treats including chocolates, baked goods, specialty foods, gelato, cheeses, wines, beers and much more from 60+ local and regional vendors.
Since its inception in 2008, some of Chocolate World Expo's more unusual offerings have included chocolate cheeses, chocolate wines, chocolate beers, chocolate-flavored coffees, chocolate-covered bacon, chocolate salad dressings, chocolate-covered pickles and even chocolate-infused bath products. 
New Jersey-based Bacon Bites is one of a number of vendors that regularly participate in Chocolate World Expo events.  "Once I got started with Chocolate World Expo, I knew it was a perfect fit for my company's great tasting products and somewhat outlandish marketing antics," recalls Larry Rosenberg, owner of Bacon Bites.  The company, which has been featured on Discovery Network's "United States of Bacon," sells chocolate-covered bacon and various derivations including chocolate-covered bacon Twinkies, bacon chocolate bars and a chocolate-bacon concoction called "Pig Poop."  
For entertainment, mentalist Marc Salem, whose amazing talents were profiled on CBS' 60 Minutes, will be performing a mind-blowing show with an added "chocolate twist," plus children will have an opportunity to meet Marvel's Spider-Man, sponsored by the Maritime Aquarium at Norwalk, home of Chocolate World Expo Connecticut. 
Celebrity chef Melissa Camacho, who appeared on Bravo's "Top Chef Just Desserts," will be conducting a series of four chocolate lectures sponsored by 42 The Restaurant, located on the 42nd floor of the The Ritz-Carlton, Westchester, in White Plains.
Admission to Chocolate World Expo Westchester 2013 is just $15 for adults and $10 for children ages 5 through 11, while children under 5 are free.  Tickets can be purchased online at www.ChocolateWorldExpo.com until Nov. 2, the day before the show, using credit and debit cards.  After that, cash and credit card ticket sales will be available at the Westchester County Center Box Office on the day of the show.  An onsite ATM is also available.
For more information, including the travel directions, performance schedules and a complete list of vendors, visit www.ChocolateWorldExpo.com.