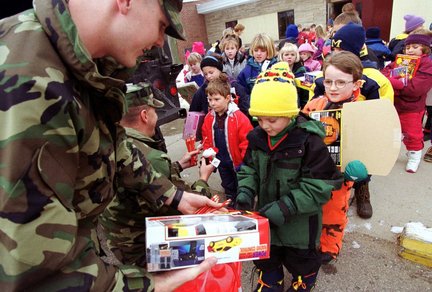 This year, the Marine Toys for Tots Foundation has partnered with Betty Crocker® to encourage holiday party hosts and goers to give back, bake and make a merry difference.  To kick off the celebration, Betty Crocker has donated $50,000 to Toys for Tots to help deliver more than 3,500 toys to families in need.
Now through December 27, individuals can register to host their Toys for Tots Cookie Exchange at www.toysfortots.org/cookie. In return, the first 1,000 hosts who sign up will receive a special cookie-making kit from Betty Crocker, including a copy of Betty Crocker The Big Book of Cookies with over 180 easy-to-make recipes and a Toys for Tots train-shaped cookie cutter. Evite® partnered with Toys for Tots and Betty Crocker to create a custom invitation for cookie exchange hosts to easily spread the word to their guests.
The not-so-jolly reality is that more than 16 million American children currently live in poverty and may not receive toys this holiday season. With a goal of 1,000 or more cookie exchange parties hosted, Toys for Tots, Betty Crocker and Evite are encouraging Americans to help other families make merry memories this holiday season.
"Betty Crocker and Toys for Tots are synonymous with the Christmas holidays," Lt. Gen. Pete Osman, USMC (Ret), President and CEO of the Marine Toys for Tots Foundation.  "We are excited to host the first annual Toys for Tots Cookie Exchange to help turn holiday parties – something in which we all partake – into an opportunity to share the magic of Christmas with deserving children.  Thanks to our new friends at Betty Crocker, everyone can help deliver memories of hope and happiness to children who need it most by collecting toys and donations at their cookie exchanges."
"We're honored to partner with Toys for Tots this holiday season to help fulfill their important mission," said Laura Forero, marketing manager with Betty Crocker. "It's our hope that by hosting cookie exchanges to gather donations some added cheer will be brought to thousands of deserving children this holiday season."
It's easy to host a Toys for Tots Cookie Exchange:
Sign Up. The first 1,000 hosts who register will receive the exclusive cookie-making kit from Betty Crocker.
Invite Your Guests. After you sign up, hosts will have access to free custom Evite invitations that they can personalize and send to their guests.
Make a Merry Difference.  Each friend and family member are encouraged to bring cookies to share as well as a toy or cash donation to Toys for Tots. Choose to donate online or collect cash and checks at the party.  Find a Toys for Tots drop-off location here for the toys you collect.
Be Creative.  Get cookie recipe ideas from Betty Crocker, as well as cute ways to easily decorate your party! Share your holiday cookie creations and donation success on social media using #MakeMerry and #TFT CookieExchange hashtags.