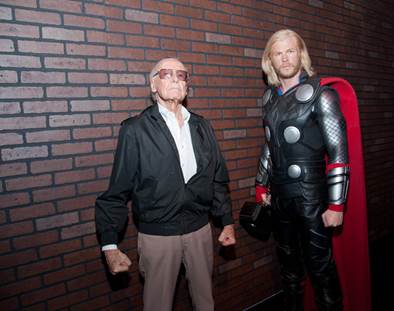 Stan Lee struck poses with his creations Thor and Iron Man's alter ego Tony Stark – bearing a striking resemblance to Robert Downey Jr. He posed with leading ladies Sandra Bullock and Sofia Vergara who make Madame Tussauds Las Vegas their home.
 
The brand new Marvel 4D experience is the capstone on Madame Tussauds' multi-million dollar transformation revealed for the first time on November 20. See Samuel L. Jackson as iconic superhero Nick Fury, joined by Tony Stark, Iron Man, Captain America and Thor. This lineup of Marvel figures is the largest of its kind to be seen in one room at a Madame Tussauds and is on display for a limited engagement through December.
 
Become part of Wolf Pack from "The Hangover" by visiting Bradley Cooper inside the infamous Vegas hotel room. Take a place among NASCAR royalty next to Dale Earnhardt. Sing for Simon Cowell— but be ready to be critiqued—or just sing along with musical icons such as Katy Perry, Rihanna and Madonna.  These music legends are all ready to "meet" you at  Madame Tussauds Las Vegas!
 
Madame Tussauds Las Vegas is ALL NEW! The interactive wax attraction is located on the Las Vegas Strip in front of the Venetian and features eight unique rooms. Take pictures with life-like wax figures of your favorite celebrities and show friends back home you hung out with the stars while in Las Vegas. Step into the movies with Will Smith and pose for paparazzi with Lady Gaga!
 
Madame Tussauds is open 365 days of the year and opens at 10 a.m. For more information, call (702) 862-7800 or go to www.MadameTussauds.com/LasVegas.