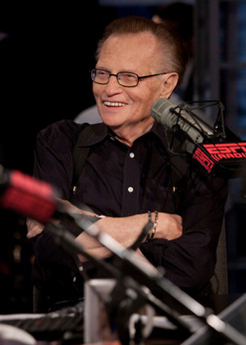 Larry King is back on the air returning to radio via Cumulus stations after a 6 decade hiatus. His return will be in the form of a new nationally syndicated one-minute daily radio feature, "Larry King Droppin' In."
The format of the "Larry King Droppin' In" series will highlight Larry King's observations and personal experiences on a wide variety of topics. The program launched on terrestrial radio across the country on November 11th, 2013 to be heard Monday through Friday in morning drive on over 50 Cumulus stations including legendary radio outlets like WABC AM in New York City, KABC in Los Angeles and WLS in Chicago.
AARP, a digital distribution partner through a Media Player, produced by Impact Shift Media, will carry the daily feature along with bonus audio, a variety of Larry King related content, and ongoing coverage of his return to radio on www.aarp.org/larryking.