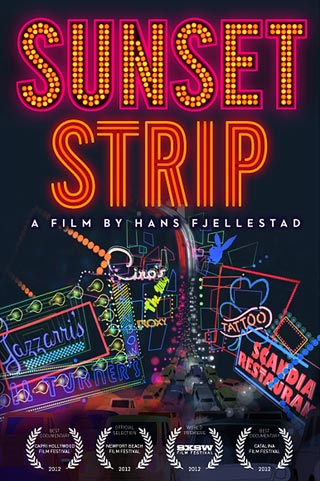 The iconic documentary SUNSET STRIP directed by Hans Fjellestad (WHEN THE WORLD BREAKS) releases today across multiple VOD platforms such as iTunes, Xbox, Playstation, Amazon, Blockbuster, Vimeo and direct to consumers via the Yerka player. The film will debut on DVD on December 10th. 
 
The Special Collectors' Edition DVD will contain a lot of extraordinary bonus material such as extended interviews with the stars revealing their favorite Sunset Strip memories, an animated tour of the Strip,
plus a series of thematic featurettes including "SEX" with Tom Arnold, Dita Von Tese, Pamela Des Barres, Hugh Hefner, Slash, Duff McKagan and Dave Navarro; "ROCK 'N ROLL" with Slash, Billy Corgan of Smashing Pumpkins, Ozzy Osbourne, Alice Cooper, Keanu Reeves, Johnny Depp and Len Fagan (rock promoter); "COMEDY" with Tom Arnold, Paul Mooney, Richard Lewis, Argus Hamilton, Tim Reid, Bill Knoedelseder, Maz Jobrani, and Dom Irrera; and "RIOTS!" with Alice Cooper, Peter Fonda, Rodney Bingenheimer, Mickey Rourke, Art Mahoney (Tattoo artist), Pamela Des Barres and Hugh Hefner.
 
SUNSET STRIP was written and directed by Hans Fjellestad, and produced by Joe Mundo, Tommy Alastra, Donovan Leitch and executive produced by Matt Sorum.  It features live performances from America, Diva Von Teese, Jane's Addiction, The Head Cat, The Pussycat Dolls, RATT, Slash featuring Fergie, Smashing Pumpkins, Steel Panther and X.
 
To kick off its International release at the American Film Market, Vision Films and Producers 13th Sign will hold a star-studded special screening for film buyers at the House of Blues Foundation Room in West Hollywood, appropriately located on the infamous Sunset Strip.
 
To learn more about "Sunset Strip" and where to watch, visit www.sunsetstripthemovie.com.