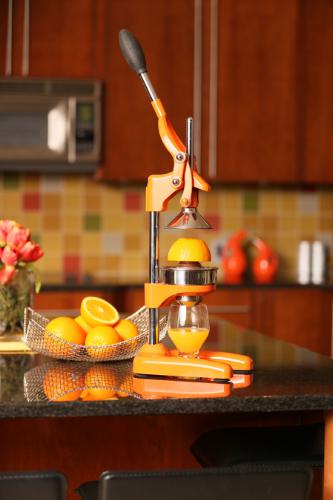 Are there foodies on your holiday gift list? Wow them with innovative tools for baking, cooking and beverages.
Those who love to bake and decorate cupcakes, cookies or cakes will love these Kuhn Rikon tools:
The 3-Cup Batter Bottle fills cupcake pans or paper liners without the mess ($8 at Amazon.com).
The Icing Spatula spreads a layer of flavor onto desserts ($3 at Amazon.com).
For a finishing touch, Wide Squeeze Bottles add colorful shapes or letters to baked goods ($5 at SurLaTable.com).
Welcome Home Brands Oven-Safe Paper Bakeware is a convenient alternative to metal pans, allowing home cooks to bake, serve, store, freeze and give all with one unit. Assorted seasonal styles starting at $5.50. Amazon.com.
Your foodie friends can prepare salads, snacks and sides in a snap with the Kyocera Ultimate Ceramic Prep Set, including a 5-Inch Slicing Knife, The Perfect Peeler and Adjustable Mandoline. Each lightweight tool features a razor-sharp blade that stays sharper longer than professional steel cutlery and tools. Available in Black or Red. $59.95. KyoceraAdvancedCeramics.com.
The Ecolution ® FarmhouseTM Cast Iron Preseasoned Fry Pan is a classic piece of cookware for the veteran chef or beginner cook. Oven-safe up to 500° F, it provides superior heat retention for even heating and a crispy bottom. Goes directly from oven to table. Starting at $24.99 (9½ inch). Amazon.com.
For whiskey or cocktails, the  Zoku ®  Ice Ball  lets you enjoy your favorite drinks on the rocks with less dilution. This 2.5 inch diameter ice sphere, melts at a slow even rate, keeping your drink colder longer. $16.95 for a set of two molds. Available at Zokuhome.com.
Give the gift of a fun, retro kitchen tool: the Cilio Orange Press from Frieling for pressing fresh squeezed juice from oranges, grapefruits and lemons with minimal effort and clean up. Seven trendy colors. $149.95 at Direct.Frieling.com.
The 10-Cup Reduce™ Water Filtration Pitcher offers a unique, high-end look with a fingerprint-proof stainless steel finish that can go from tap to tabletop in any foodie's home. A clear window on the side offers easy viewing of liquid levels in ounces and cups. BPA free pitcher and filter. $44.99 at ShopReduce.com.