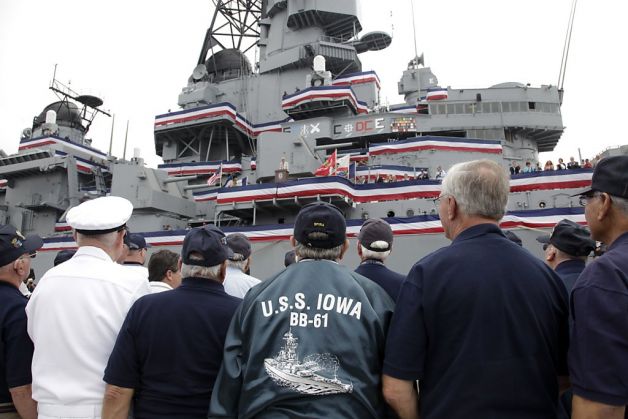 Battleship IOWA will host the 2nd Annual Veterans Appreciation Festival this Saturday, November 9 from 10:00 am to 4:00 pm. The public is invited to show their appreciation for veterans at the festival, which will feature live music, food trucks, patriotic Harley riders and more than 20 exhibit booths featuring resources and information for veterans. Presented in partnership with the City of Los Angeles, Los Angeles Mayor Eric Garcetti and Councilman Joe Buscaino are scheduled to speak.
Veterans and Active Duty service members (with ID) will receive FREE tours of the historic ship from Saturday, November 9 through Monday, November 11; family members accompanying veterans and Active Duty service members will receive special $10 tour tickets. Pier side activities are FREE to the public. There is $3 all-day parking for the festival: enter at Swinford St. & Harbor Blvd.
"IOWA is proud to honor the men and women who have served in the military," said Jonathan Williams, President and Chief Operating Officer of the Pacific Battleship Center. "Battleship IOWA is an iconic, tangible link to our military history here in the Los Angeles area. The ship is a beacon for generations of veterans and patriots who defended this great nation from WWII to the present."
Since July 2012, Battleship IOWA has welcomed more than 350,000 visitors to "Celebrate the American Spirit." Aboard the ship, visitors connect with American history, naval traditions and the daily rituals of generations of the ship' crew. IOWA offers annual memberships, an award-winning gift shop, exciting charitable giving opportunities, and unique special events.
For more information, please go to www.pacificbattleship.com.