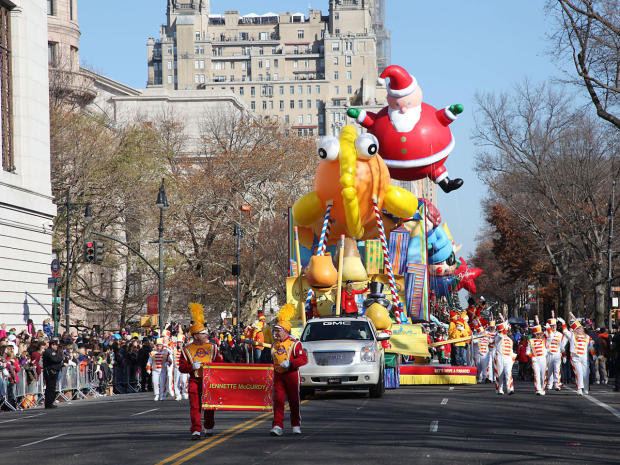 A CBS Thanksgiving tradition in its 53rd year, the special will feature portions of the 87th Annual Macy's Thanksgiving Day Parade live from New York City, as well as performances by country music superstars Lady Antebellum. Since its 2006 inception, the group has won the "Vocal Group of the Year" honor from both the ACM and the CMA three times in a row and has sold over 11 million albums worldwide. The trio has taken seven trips to #1 on the country radio charts, earned five Platinum singles, including their recent single "Downtown," and has won seven GRAMMY Awards, including the all-genre "Record of the Year" and "Song of the Year."  Most recently, Lady A released the new single "Compass," and will kick off their headlining TAKE ME DOWNTOWN Tour in January.
Additional performances during the parade will include the Broadway casts of the hit Broadway productions "Rodgers and Hammerstein's Cinderella," "First Date" and "A Night with Janis Joplin."
Frazier and Andrews will anchor from a site along the parade route in New York City.  The beloved parade is famous for its gigantic balloons of cartoon character favorites, fantastic floats and lively marching bands from across the country.  
Currently, Frazier and Andrews co-anchor the nightly, half-hour newsmagazine "omg!INSIDER," which is in its 10th season.  This marks Frazier's second consecutive year hosting the Parade, while this is Andrews' first.  Previously, Frazier worked on "omg!INSIDER's" sister show, "Entertainment Tonight,"for eight seasons as a correspondent and weekend anchor.  Frazier appeared as an entertainment expert on news and entertainment programs including CBS News' "The Early Show,"  "The Oprah Winfrey Show," CNN's "Larry King Live" and "Nancy Grace," and HLN's "The Joy Behar Show." 
Before joining "omg! INSIDER," Andrews worked on "Entertainment Tonight" as a correspondent and as an anchor on "Entertainment Tonight Weekend."  Prior to that, Andrews was known for her work on ESPN where she served as a national correspondent, a co-host for ESPN's hit show "Cold Pizza," and later as the co-host of "ESPN Hollywood."  During her time with ESPN, Andrews co-hosted the Triple Crown morning shows, "The ESPY Red Carpet Show," "The Indy 500 Parade," "Michael Jordan's Celebrity Golf Invitational" and contributed to ABC Sports live coverage.  Also, Andrews has hosted TNT's "16th Annual Screen Actors Guild Awards Red Carpet Show," "CMT's Next Superstar" and "Top Chef Canada."  Additionally, she has appeared as herself in the series THE YOUNG AND THE RESTLESS and THE BOLD AND THE BEAUTIFUL, on the Network, "True Blood," "Torchwood," the feature film "Harold & Kumar Go to White Castle" and had a recurring role in the ESPN original series "Playmakers." 
Emmy Award-winning producers Ricky Kirshner and Glenn Weiss ("The Tony Awards") are executive producers for THE THANKSGIVING DAY PARADE ON CBS.  Weiss will also direct.
CHEAT TWEET: .@KevinFrazier @TheaAndrews host @ladyantebellum perform "The Thanksgiving Day Parade on CBS" Live from NYC 11/28! http://bit.ly/17ZMHol