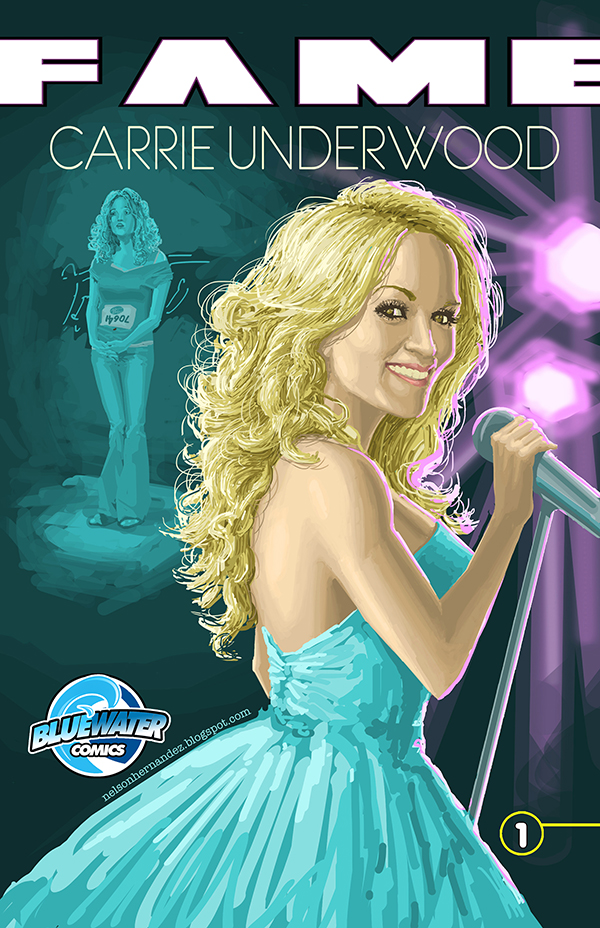 Bluewater Productions will be releasing a new comic book about the life of singer Carrie Underwood.  Fame: Carrie Underwood is released on November 13; the comic book will be available in print and digital.
What happens when a small town girl will stop at nothing to follow her dreams? Carrie Underwood is what happens. A story of faith, determination and inspiration. FAME: The Carrie Underwood Story follows the Superstar's trials and tribulations, leading her to become the top female performer of our era.
Loyd Gant writes the 32-page comic book with art by Manuel Diaz. The comic book will feature a cover by famed artist Nelson Hernandez.  
"We get a lot of requests on subjects to tell their stories in this unique medium.  Carrie Underwood has always been at the top of the list when people mention to us who they would like to see a comic book of." Says publisher Darren G. Davis.
Bluewater has focused on the country music scene before with Fame: Tim: McGraw and Fame: Taylor Swift, which are both still available in print on Amazon.
Upcoming FAME subjects include: Ian Somerhalder, Pink & Brad Paisley.
To order the book on iTunes for $1.99 click here: http://bit.ly/15ZfU1p
Print copies of FAME can be ordered for $3.99 at Comic Flea Market here: http://bit.ly/HRMDwA