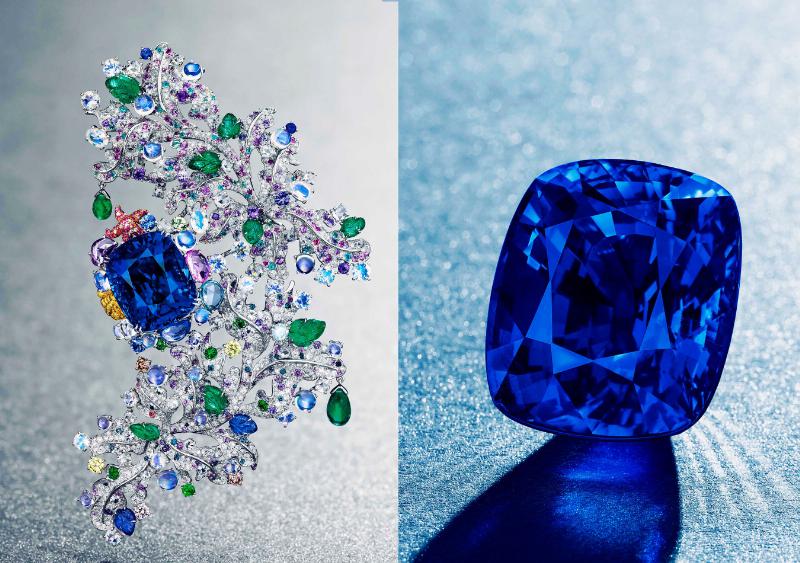 An Anna Hu Haute Joaillerie brooch broke two world auction records at Christie's Magnificent Jewels sale in Geneva. First, the world auction sales record for a contemporary jewelry artist, as previously held by JAR. Second, the highest auction price per carat for a Burmese sapphire at US$ 78,400. The final Realized Price for Anna Hu's Cote d'Azur brooch, as published by Christie's, was CHF 4,197,000 (EUR 3,410,361 / US$ 4,568,163).
The one of a kind Anna Hu Haute Joaillerie Cote d'Azur brooch is centered upon a cushion-shaped Burmese sapphire, weighing 58.29 carats, set within a pave-set diamond floral branch decorated with moonstones, colored sapphires, tsavorites, tourmalines, spinel, colored diamonds, carved sapphires, carved and drop-shaped emeralds, and mounted in gold and measuring 12.7 cm. The piece can be worn as two separate or twin brooches and as a pendant.
Anna's inspiration was the stone's vivid blue color and brilliance, which evoked a magnificent ocean with exceptional transparency and reminded her of one of her favorite films, Ang Lee's Life of Pi. The surrounding "sea leaf" adds her trademark fantasy design and the influence of flora, also very significant in her work.  As a Pisces, Anna's love for the ocean is profound which perhaps explains why she considers this exquisite royal blue sapphire the most beautiful stone she has ever worked with and its boundless clarity a symbol for freedom, the most basic and crucial of necessities for an artist.