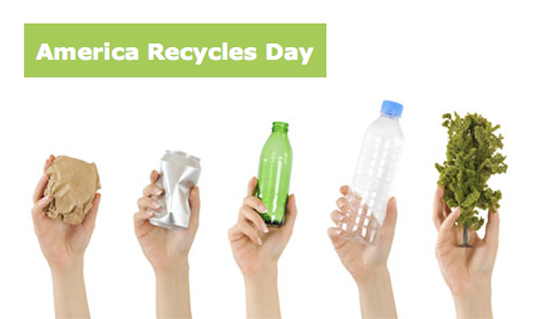 AEG, L.A. LIVE and STAPLES Center will host the largest America Recycles Day collection drive in Los Angeles on Friday, November 15th in partnership with Call2Recycle and Waste Management of Southern California. The fourth annual America Recycles Day at L.A. LIVE event will be the official key showcase event in California for Keep California Beautiful. The free, public drive will be held in Nokia Plaza L.A. LIVE from 10:00 AM to 7:00 PM, with a drop off lane located on Chick Hearn Ct. between STAPLES Center and L.A. LIVE.
 
From 10:00 AM to 7:00 PM, the public can participate in the drive by dropping off their old electronics, batteries, light bulbs and other durable goods from the acceptable materials list to the collection bins located on Chick Hearn Ct., between L.A. LIVE and STAPLES Center. From 4:00 PM to 7:00 PM the Lakers' Friday Night Live will take place on Nokia Plaza L.A. LIVE featuring sustainable giveaways from sponsors and all participants who drop off recyclable items during this time will receive a Lakers eco-tote bag and an entry form for a chance to win two tickets to an upcoming Lakers game. Items that will be collected at the drive include:
 
computers                   keyboards                         mice           fax machines                  photocopiers
televisions                   VCRs                            stereos            home/office telephones
mobile devices            consumer electronics       toys            hangers                           books
microwaves                 residential light bulbs       keys           accessories                      clothing
batteries                      polystyrene foam              shoes        non-motorized                sporting equipment          
 
Items that will NOT be accepted include: smoke alarms/detectors, fire alarms/detectors, thermometers, dehumidifiers, any unit with sludge or liquids, large and small appliances, refrigerators, non-decontaminated medical equipment.
 
America Recycles Day (ARD), a program of Keep America Beautiful is a nationally recognized day dedicated to promoting and celebrating recycling in the United States.  The fourth annual America Recycles Day at L.A. LIVE event is supported by community partners from Keep California Beautiful, Keep Los Angeles Beautiful, the California Product Stewardship Council,
 
Goodwill Southern California, the City of Los Angeles Public Works Department, Dart and Ditto who will all be on hand to provide information and support for the event.
 
For more information on L.A. LIVE's America Recycles Day event on Friday, November 15, please visit lalive.com/americarecyclesday.