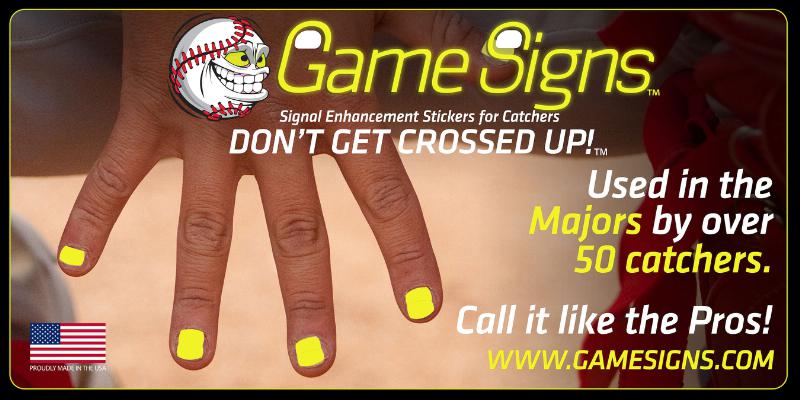 No it's not nail polish. Game Signs, the nationwide provider of bright signal enhancement stickers for baseball and softball catchers, today announced Boston Red Sox's catchers Jarrod Saltalamacchia and David Ross will be wearing Game Signs neon yellow fingernail stickers in the 2013 World Series. Game Signs specially designed stickers are used to ensure that pitchers can accurately see the signs from the catchers.
Over 50 Major League Baseball catchers have used Game Signs this year.  In the post season alone, Game Signs have been worn by: A.J. Ellis (Dodgers), Brayan Pena (Tigers), Stephen Vogt (Oakland A's) and Brian McCann (Atlanta Braves).  The brightly colored signal enhancers are specially designed, durable, reflective, stickers that are applied to the fingernails of the catcher's signaling hand.  Game Signs are available at Dick's Sporting Goods, Dunham's Sports and Hibbett Sports among other top national sports retailers.
Jarrod Saltalamacchia of the Boston Red Sox says, "Our entire staff loves the way my signs light up from behind the plate. These things (Game Signs) are easy and they work great!"
"Throughout the history of the game, catcher's have tried a number of different makeshift methods to highlight their signs to the pitcher and make them more visible, namely; athletic tape, white out, white paint, white nail polish and chalk," said President and founder, Matt Flaherty .
Game Signs are highly visible during both day and night games and are easily applied and removed. Made with a smooth non-porous surface that is easily wiped clean, a heavy-duty adhesive that keeps them in place under the harshest game conditions and there are no solvents to use or residue to chip off.
During the World Series, Game Signs will be hosting their own World Series of giveaways!  Powered by Promojam, fans can tweet or post to win various prizes including Game Signs product and autographed MLB balls!  The amount of daily giveaways will be based on total runs scored.  Fans can visit www.gamesigns.com to learn more and enter to win.