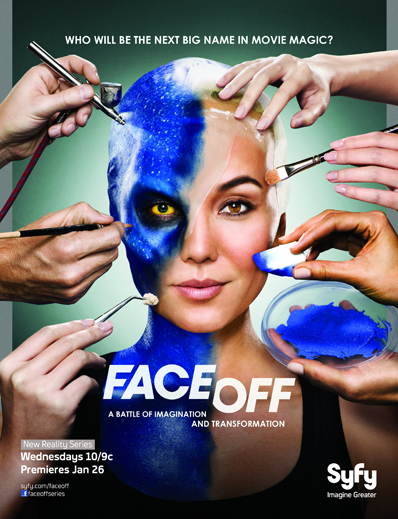 Syfy has renewed hit reality competition series Face Off will return for a sixth season in January 2014, introducing 14 new makeup artists in what will be Face Off's boldest season yet.  In the new season the contestants will face extreme challenges that will inspire them to create the most magnificent characters and creatures in Face Off history.  And coming this November, Syfy debuts two original Face Off specials –Naked and Painted and Judges' Favorites.
Season five of Face Off is in all new episodes Tuesday nights at 9PM ET/PT on Syfy.  In tomorrow night's episode, the remaining five are tasked with creating an original dark elf warrior character. The remaining five artists on season five are Miranda Jory of Los Angeles, CA; Laney Parkhurst of Manitou Beach, MI; Tate Steinsiek of Morris, OK; Laura Tyler of Orlando, FL; and Roy Wooley of Tucker, GA.
The competition culminates with the season five finale on Tuesday, November 5 at 9PM (ET/PT) when the final three contestants each create two lead characters from Swan Lake: a woman transforming into a swan and the sorcerer who casts the spell on her.  These finale makeups will be put to the test in an epic performance by the Los Angeles Ballet.
Syfy will also debut two original one-hour Face Off specials in November. Naked and Painted features host McKenzie Westmore as she explores the world of body painting with a variety of special guest experts including former Face Off contestants and the industry's top body painting artists. The special will feature two start-to-finish body painting demonstrations in the lab. Naked and Painted airs November 12 at 9PM (ET/PT) on Syfy.