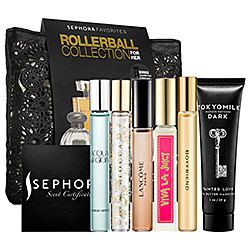 Each month SEPHORA presents SEPHORA HOT NOW, the most buzzed-about beauty handpicked by our experts. From behind the scenes to the doctor's office, these top six picks will easily show you what's at the forefront of our minds and the beauty landscape.
NAIL GRAFFITI IN ONE COAT
The first-ever matte, glitter, graffiti-effect top coat, FORMULA X for SEPHORA XPLOSIVES TOP COAT brushes on splatter-effect nail art with ease. Available in 14 different splatter color combinations and always 3 free formulation, wear the top coats alone or layer over polish for extra impact. 
NATURALS AT BOOSTING LASHES
SEPHORA COLLECTION FALSE LASHES feature premium, natural-feel lashes for a ravishing look with an ultraflexible band to ensure the most comfortable fit. With 11 styles to choose from, your lash look will easily last from day to night no matter the occasion! 
UNBOTTLES THE SCENT TO DISCOVERY
Build your fragrance wardrobe without the commitment with the portable rollerballs ideal for on-the-go touch-ups in the SEPHORA FAVORITES ROLLERBALL COLLECTION FOR HER. Try five celebrated perfumes, then redeem the enclosed scent certificate for a full-sized bottle of your favorite! 
APPEARANCE-PLUMPING WITHOUT THE STING
MANUKA DOCTOR BEE VENOM MASK boasts a high-performance blend of enzymes, peptides and amino acids to create an age-defying Purified Bee Venom mask that rejuvenates the look of skin on contact. Use as a deeply hydrating moisturizer or a restorative mask for more firm and youthful skin! 
WHITENING THAT PUTS A SMILE ON YOUR FACE
With a breakthrough on-the-go formula that requires no strips or trays and is sensitivity free, GLO SOLO WHITENING VIALS simply brush gel onto teeth with no device necessary. Over two weeks, use of the vials twice a day for one minute will gently whiten your pearly whites! 
NEW NUDES: ANYTHING BUT NEUTRAL
YSL's bestselling Glossy Stain is now available in new, luminous nude tones: YSL GLOSSY STAIN—REBEL NUDES. With a formula of 30% water, the newest nudes comfort and soften lips while offering dimensional high-shine from Euphotic Pearl technology.
To learn more about this month's HOT NOW picks go to: http://www.sephora.com/contentStore/mediaContentTemplate.jsp?mediaId=12200056, follow on twitter @sephora or check out theglossy.sephora.com