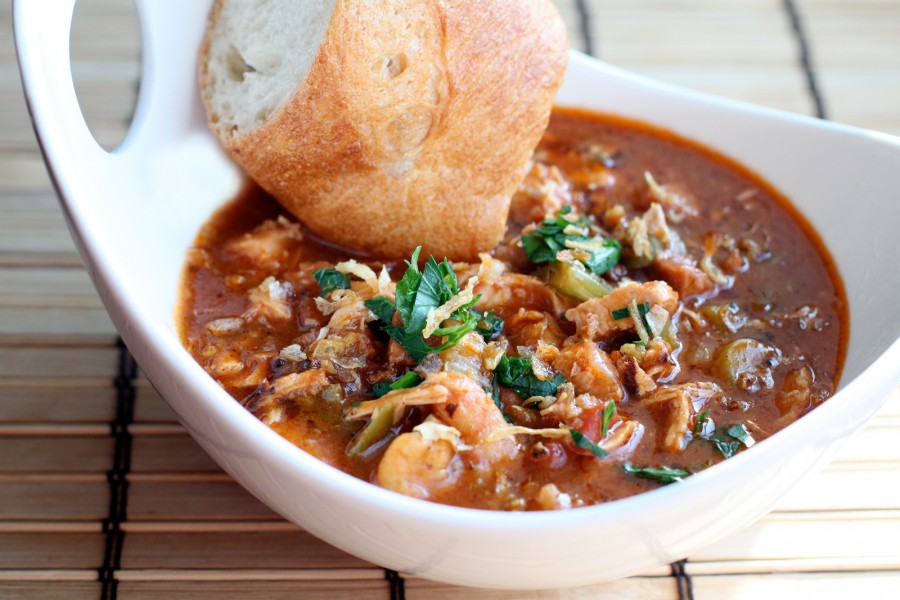 This weekend, we celebrated National Gumbo Day. It's spicy, it's hearty and – when made the right way – is the most delicious way to warm up your Fall day. Here's a recipe from good ol' Southern Paula Deen:
What You Need:
3 large boneless skinless chicken breast halves
Salt and pepper
1/4 cup vegetable oil
1 pound smoked sausage, cut into 1/4-inch slices
1/2 cup all-purpose flour
5 tablespoons margarine
1 large onion, chopped
8 cloves garlic minced
1 green bell pepper, seeded and chopped
3 stalks celery chopped
1/4 cup Worcestershire sauce
1/4 bunch flat leaf parsley, stems and leaves, coarsely chopped, plus chopped leaves for garnish
4 cups hot water
5 beef bouillon cubes
1 (14-ounce can) stewed tomatoes with juice
2 cups frozen sliced okra
4 green onions, sliced, white and green parts
1/2 pound small shrimp, peeled, deveined and cooked
How To Make It:
Season the chicken with salt and pepper. Heat the oil in a heavy bottomed Dutch oven over medium-high heat. Cook the chicken until browned on both sides and remove. Add the sausage and cook until browned, then remove. Sprinkle the flour over the oil, add 2 tablespoons of margarine and cook over medium heat, stirring constantly, until brown, about 10 minutes. Let the roux cool.
Return the Dutch oven to low heat and melt the remaining 3 tablespoons margarine. Add the onion, garlic, green pepper and celery and cook for 10 minutes. Add Worcestershire sauce, salt and pepper, to taste and the 1/4 bunch parsley. Cook, while stirring frequently, for 10 minutes. Add 4 cups hot water and bouillon cubes, whisking constantly. Add the chicken and sausage. Bring to a boil, then reduce the heat, cover, and simmer for 45 minutes. Add tomatoes and okra. Cover and simmer for 1 hour. Just before serving add the green onions, shrimp and chopped parsley.
Read more at: http://www.foodnetwork.com/recipes/paula-deen/gumbo-recipe/index.html?oc=linkback