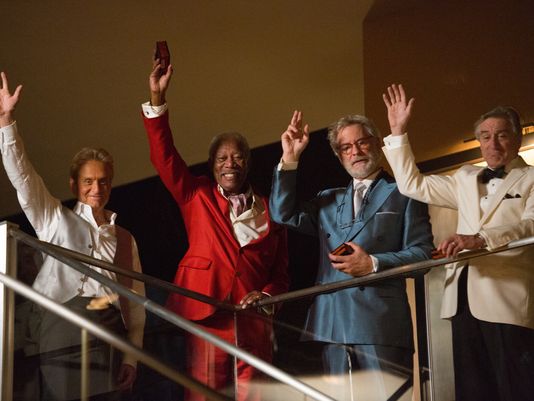 With a combined six Oscar wins, nine nominations, and a collective gross of $16 billion in worldwide box office revenue, the stars of "Last Vegas" are true Hollywood legends. This is the first time; however, that Michael Douglas, Robert De Niro, Morgan Freeman, and Kevin Kline are brought together on the big screen. Only in Vegas, baby.
In director Jon Turteltaub's (National Treasure) latest comedy, these four icons play lifelong friends who opt to stop acting their age and relive their glory days for a wild, raucous weekend in Las Vegas. The saying "whatever happens in Vegas, stays in Vegas" might apply to common tourists, but these four actors bring enough humor to keep audiences chuckling even after they leave the theater.
Like with any great Las Vegas movie, "Last Vegas" places a lot of emphasis on the buffet of out-of-the-ordinary thrills sin city has to offer. Instead of skipping right to the strippers, black jack tables, and expensive nightclubs, though, Dan Fogelman's (Crazy, Stupid, Love) script opens with a flashback to the 1950s.  This is where we are introduced to much younger versions of the film's four leading men: Billy (Douglas), Paddy (De Niro), Archie (Freeman), and Sam (Kline).  They joke, they laugh, and two of the boys — Billy and Paddy — each have their eye on the same girl.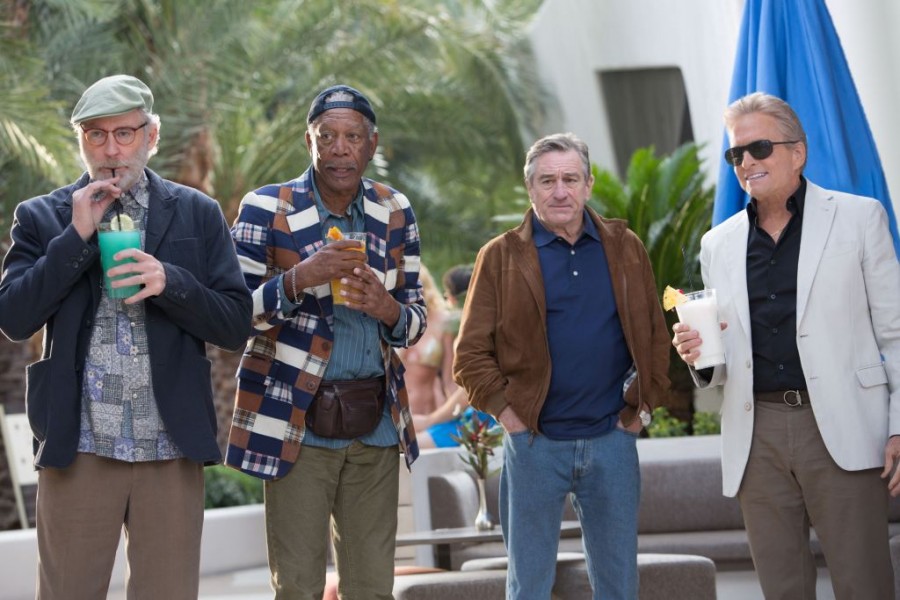 Jumping 58 years later, our protagonists go from budding youths to senior citizens. Sam is retired in Florida, Archie is being taken care of by his son, Paddy is still getting over the death of his wife — the same girl we saw in the prologue — and Billy is struggling to accept the fact that he is getting old. By proposing to his much younger girlfriend — at the funeral of one of his colleagues no less — Billy sets this wild ride in motion. In one fell swoop, the BFF's ditch their normal lives and reunite for a bachelor party in Vegas. Even Paddy, who is still upset that Billy didn't attend his wife's funeral, decides to come for one, final hurrah.
There is undoubtedly plenty of generational humor in Fogelman's script. When the central narrative involves actors that are 60+ years of age, it is inevitable. But while the jokes might be at the expense of people older than most grandparents, the punch lines appeal to everyone. The perfect example of this occurs about halfway through the movie when Morgan Freeman's Archie tries his first Red Bull vodka — a favorite drink of the millennial generation. When the intoxicating combination of caffeine and alcohol hits his system, the actor goes on an unintelligible drunken monologue that is universally hilarious.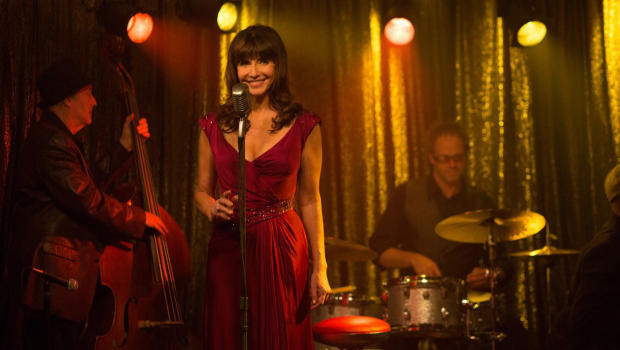 A bachelor party in Vegas isn't complete, however, without at least a little bit of promiscuity. Sadly, this is where "Last Vegas" begins to stumble. Just like senior citizens have trouble staying awake as the day progresses, "Last Vegas'" third act is drowsy in relation to the rest of the story. Much of this has to do with the sloppily constructed romantic side plot between Billy and an aging casino singer named Diana (Mary Steenburgen). Turteltaub doesn't help matters either. By choosing to shoot plenty of extended party montages for no reason except that they look snazzy, the narrative loses the quick pace it opened with. Loud music, attractive women, and all-around drunken merriment is fun to watch, but gets tedious after seeing the same collection of shots rehashed five or six times in a row.
Despite the lackluster conclusion, "Last Vegas" is still a lot of fun. While it may not be as extreme as something like 2009's "The Hangover," Douglas, De Niro, Freeman, and Kline each prove that they are still young enough to let loose and have a good time. Don't expect to see any Oscar worthy performances, but do anticipate a light, upbeat story with even a few risqué jokes thrown in just for good measure. 
By David Morris