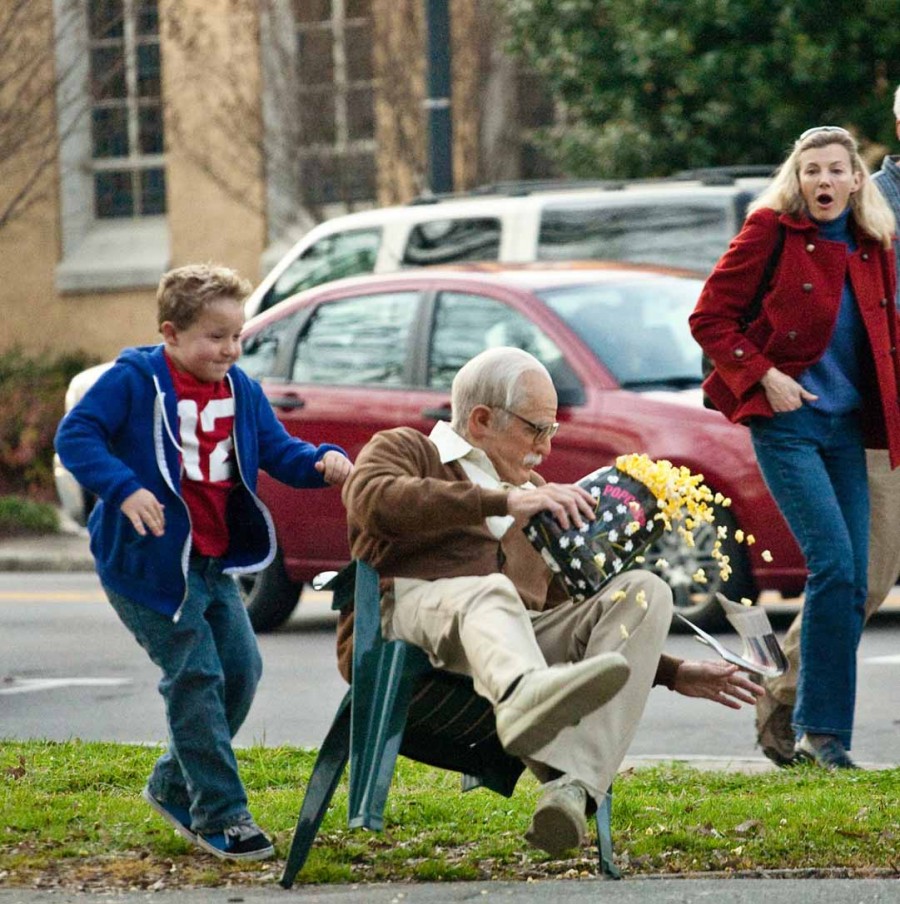 If the franchise of MTV's "Jackass" was an empire, then Johnny Knoxville is its King and his latest shocking stunt film is the prize jewel. Depending on your generation, you will either gasp in horror or suffer from uncontrollable laughter while watching "Jackass Presents: Bad Grandpa."
Jeff Tremaine, who has directed a handful of the "Jackass" projects jumped back on board for "Bad Grandpa." As executive producer of MTV's "Ridiculousness" with Rob Dyrdek, Tremaine is a professional in directing foolish comedy. Written by Knoxville and his stunt posse, his newest venture involves incredibly stupid stunts, grown men acting like toddlers and pranks on the public. Knoxville's team gained their fame from the 2000 MTV reality series, "Jackass," with the cast of Johnny, Steve-O, Bam Margara, the late Ryan Dunn and many more. Since the show ended, Paramount Pictures has distributed five spin-off projects. "Bad Grandpa" is the feature that revives Knoxville's insanely driven antics and proves that the 42 year-old has a knack for comedic timing as well.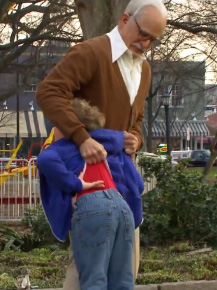 In the film, Knoxville is transformed into an 86 year-old Grandpa, Irving Zisman. His nagging wife has just passed away and he feels free again, although he hasn't quite found the time and place to bury her yet. Suddenly, his 8 year-old cherubic grandson, Billy (Jackson Nicoll) is thrust into his care after his crack-head daughter is sent off to jail. The two embark on a cross-country road trip as Irving attempts to take Billy to his drunken and irresponsible father. Sound like a tragic story? Think again. This road trip tale is so downright hilarious, it's humor trumps the film which is actually called "Road Trip." There's something about putting two people in a car who dislike each other for a 3,000 mile journey that screams "funny things will happen." Young Jackson Nicoll is, for lack of a better word, a 'natural' at comedy. In a movie shot home-video and hidden camera style, Nicoll easily delivers his jokes as if it's all improvised and not at all scripted.
In Knoxville's 'push the envelope' adventure with ultra-horny Grandpa, a handful of stunts and jaw-dropping shocking moments actually make the movie worth seeing. Among them: Irving catapults into a Goodwill store after attempting to fix the kid's sidewalk bouncy ride.
Is it too much for audiences? In this day and age, no. Sometimes laughing until you're blue in the face is the best form of entertainment. For the ones who appreciate the mentally deranged humor of "Jackass," "Bad Grandpa" is the movie for you.
By Pamela Price