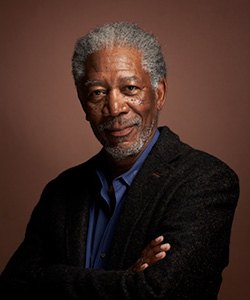 IMAX and Warner Bros. Pictures today announced that Academy Award® winner Morgan Freeman (Million Dollar Baby) will narrate the upcoming IMAX 3D® documentary adventure Island of Lemurs: Madagascar.  The film will be released in select IMAX® and IMAX® 3D theatres starting April 4, 2014.
Island of Lemurs: Madagascar reunites Freeman with Drew Fellman, who also wrote and produced the 2011 IMAX 3D documentary Born to Be Wild 3D, and director David Douglas, who served as director of photography on that film.
"I am thrilled to continue my partnership with IMAX and Warner Bros.," said writer/producer Drew Fellman. "Lemurs are amazing critters and one of the most canny survivors in the history of life on earth.  Their incredible story belongs on the giant screen and deserves to be told by such a powerful and distinctive voice as Morgan Freeman's."
Greg Foster, CEO of IMAX Entertainment and Senior Executive Vice President, IMAX Corp, said, "Island of Lemurs: Madagascar brings IMAX 3D cameras to perhaps the most compelling region for wildlife on the planet, capturing this environment in the clearest, most vibrant way possible.  As proven with IMAX documentaries such as Born to Be Wild 3D, Morgan Freeman is the perfect guide to lead moviegoers through this one-of-a-kind experience."
Dan Fellman, Warner Bros. Pictures President of Domestic Distribution stated, "We are excited to reteam with IMAX on this remarkable expedition to the unique land of Madagascar and discover more about its most fascinating indigenous residents, the lemurs."
One of today's most respected and prolific actors, Morgan Freeman won an Academy Award® for Best Supporting Actor for his performance in Clint Eastwood's Best Picture winner Million Dollar Baby.  Freeman has earned four additional Oscar® nominations, the latest for his portrayal of Nelson Mandela in Eastwood's Invictus.  He was previously Oscar®-nominated for his work in The Shawshank Redemption; Driving Miss Daisy , for which he won a Golden Globe; and Street Smart.  His myriad credits encompass more than 80 films over five decades, only recently including Now You See Me, Oblivion, the Dark Knight trilogy, Dolphin Tale, and Red.  He has also lent his recognizable voice to such titles as War of the Worlds, Born to Be Wild 3D, and the Oscar®-winning documentary March of the Penguins.  In 2012, he was the recipient of the HFPA's Cecil B. DeMille Award for his outstanding contributions to film.