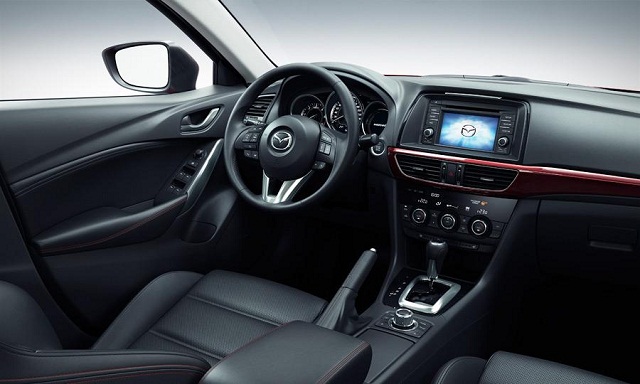 iBiquity Digital Corporation, the developer of digital HD Radio Technology for AM and FM audio and data broadcasting, announced that the all-new 2014 Mazda3 is the first Mazda vehicle to launch integrated audio and free traffic flow images using Clear Channel's Total Traffic HD Network (TTN) and HD Radio Technology.  The 2014 Mazda3 is available in dealerships now.
The redesigned Mazda3 features a new display audio system (MAZDA CONNECT™) that incorporates the latest HD Radio audio and data features including Artist Experience®, allowing listeners to view images such as album art on their information screens and it's even complete with free traffic maps, showing drivers green, yellow and red flow patterns, all delivered by HD Radio stations across the country.
Jeff Jury, Chief Operating Officer of iBiquity Digital, said, "Mazda is a great partner and we are pleased to announce that they have joined the growing list of automakers to recognize and use the HD Radio digital data pipe to deliver subscription-free traffic information to their new display audio system.  The Mazda3 is sure to be a class-leading vehicle and Mazda included all of the latest HD Radio audio features like Artist Experience for their tech-savvy drivers.  Mazda and the entire automotive industry are adopting the latest HD Radio audio and data features very quickly driving the transition of over-the-air AM & FM broadcasting to a digital future."
Adds Jim O'Sullivan, President and CEO, Mazda North American Operations (MNAO): "Mazda3 is the brand's best-selling vehicle worldwide, which makes the launch of this all-new, third-generation model that much more important. We've reimagined this vehicle from the ground up and added many new in-car technology features, including an all-new HMI system called MAZDA CONNECT which offers a slew of audio and connectivity features not expected in the compact car segment. By teaming up with industry leaders such as iBiquity Digital, we look forward to even more success with the 2014 Mazda3 and the rest of our vehicle lineup."
HD Radio Technology is the digital evolution of AM and FM radio and delivers significant benefits for Mazda drivers: crystal-clear sound quality; additional digital only local FM channels known as HD2/HD3 Channels; PSD – Program Service Data, which displays song title and artist name on the radio screen; iTunes Tagging allows listeners to store song information with the touch of a button for later purchase and download through iTunes; Artist Experience which enables images that match the audio content to be displayed on the radio screen; and now, subscription-free traffic and data information sent directly to a vehicles radio or navigation system.  HD Radio Technology is subscription-free broadcast radio.
HD Radio Technology is available nationwide, with more than 2,200 digital stations on-air, and over 1,450 HD2/HD3 digital only channels that broadcast fresh new content that can only be heard with an HD Radio receiver. A sampling of the formats on these extra channels, which vary in different markets around the country, include Dance/Electronica, Bluegrass Country, Comedy, Local Music, Chill/Coffee Shop Music, South Asian, Talk, News, and Sports, to name just a few.
33 automakers have now publicly announced plans to incorporate HD Radio Technology in 170+ models by year-end with more than 80 models featuring HD Radio receivers as standard equipment.  Mazda joins Toyota, Lexus and Mitsubishi on the rapidly expanding list of automakers to integrate digital traffic and data services in addition to the audio entertainment features offered by HD Radio Technology.
For More Info: www.mazdausa.com and www.hdradio.com or download the new HD Radio Guide App from the iTunes store.