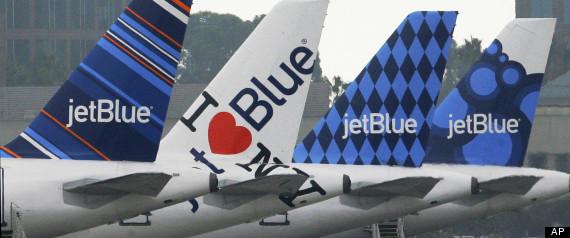 JetBlue Airways goes green! The popular airline today announced the first-ever curated Greenmarket at its home terminal – T5 – at New York's JFK Airport. In addition to New York City, JetBlue serves several destinations throughout New York State including Buffalo, Newburgh, Rochester, Syracuse, and White Plains. The pop-up farm stand will celebrate products grown and produced by Greenmarket farmers from New York State. This farmers market is a collaboration between the airline and GrowNYC.
From October 29 – 31, 2013, travelers will be able to experience the Greenmarket at T5 and take a taste of New York home with them. The market will include education stations, a harvest-themed photo booth, a bike blender for people-powered smoothies, a composting pile with live worms, and a recycling game. The T5 Greenmarket will also include an array of goods all made from products grown in New York State.  Products include baked goods, pies, grains, honey, jams, maple syrup, fruit, pickles, tomato sauces, wine, as well as Greenmarket Wheat Beer and Hard Cider.
Governor Andrew M. Cuomo said, "New York is a powerhouse in agriculture and food production and we are proud that many of our food and beverage producers will have an opportunity to sell their first rate, homegrown products in the T5 terminal at JFK Airport at the end of October.  This Greenmarket will help local food and beverage companies better market their products, increase their sales and further build their brands to an audience outside the borders of the Empire State."
"We love New York, all of it. This includes the food and products that come from our destinations in the Finger Lakes and Western New York like Syracuse, Rochester and Buffalo.  Autumn makes us all wish we had the chance to check out the fall foliage in upstate New York, and go picking for fresh, healthy food. In reality, we are probably traveling for business and wishing we had picked up a healthy snack," said Sophia Mendelsohn, JetBlue's head of sustainability. "JetBlue is approaching the sustainability in a very New York way. When you think of an airport, farms and composting do not automatically come to mind. We are connecting the two because we know sustainability is an ongoing cycle. The nutritious scraps of food we compost in T5 are returned to the ground to help make New York produce."
The farmers market will include a compost education station where visitors will be able to drop off their food scraps, learn how to turn food into dirt and view an educational worm bin. In May, JetBlue launched a composting program at T5 with Air Ventures, the franchisee that owns and operates the Jamba Juice and Dunkin Donuts restaurants in T5 and Royal Waste Services to separate and haul nearly 300 pounds of food waste each day for composting. Food scraps are transported to McEnroe Farm in New York's Hudson River Valley where it is composted into nutrient rich soil and used to grow produce.
GrowNYC's Greenmarket was founded in 1976 with a two-fold mission: to promote regional agriculture by providing small family farms the opportunity to sell their locally grown products directly to consumers, and to ensure that all New Yorkers have access to the freshest, most nutritious locally grown food the region has to offer. Greenmarket operates over fifty farmers markets across all five boroughs of New York City, including the famous Union Square Greenmarket.
"GrowNYC has been connecting upstate farmers with New York City shoppers for nearly four decades; by offering the best that New York State has to offer from its rich fields and orchards," said Marcel Van Ooyen, GrowNYC's executive director. "Our Greenmarkets ensure that all New Yorkers have access to fresh, healthy food; now, JetBlue customers will be able to take a taste of the State with them when they pass through T5 on their way out of town. We hope they'll share the bounty our State has to offer with others far and wide."