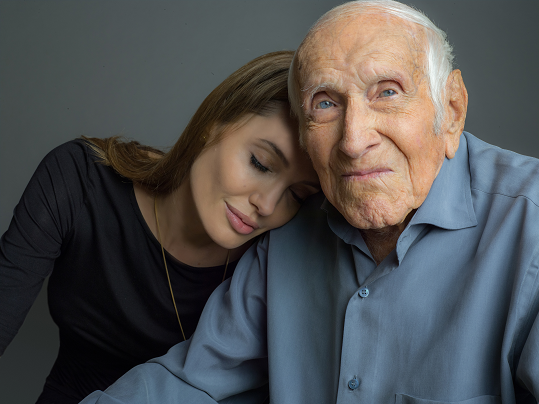 Academy Award winner Angelina Jolie directs and produces "Unbroken," the epic drama of the life of Louis "Louie" Zamperini, adapted from Laura Hillenbrand's enormously popular book.
The project has a long history at Universal Pictures, which first acquired the rights to tell Zamperini's life story in 1957, planned as a starring vehicle for Tony Curtis as his follow-up to Spartacus.
Jolie and Zamperini, neighbors in the Hollywood Hills, have become close friends over the development of the film, as the filmmaker has listened to the war hero recount the incredible incidents of his life over many months of preparation.
Zamperini gave Jolie a golden running shoe pendant, a prize from one of his earliest races, which she will wear every day as she helms the film in Australia over the coming months.
Jack O'Connell earned the starring role and will appear as Louis Zamperini.  O'Connell recently spent several afternoons meeting with Zamperini at his home to hear the man he'll be portraying recount his incredible tale firsthand.  Zamperini retains many keepsakes from his adventures in his home.  Seeing Zamperini's World War II bomber jacket, O'Connell asked permission to put it on, which Zamperini gladly gave.  The jacket fit O'Connell perfectly and became one of the first moments of him inhabiting the life of this legendary hero.
"Unbroken" arrives in theaters on Christmas Day, 2014.