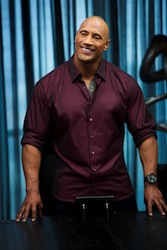 TNT has greenlit a new series starring and executive-produced by Dwayne "The Rock" Johnson, who most recently headlined TNT's The Hero. In Wake Up Call (working title), Johnson will lend a helping hand to everyday people who are facing enormous challenges in their lives.
TNT has ordered eight one-hour episodes of Wake Up Call, which is being produced by Ben Silverman's Electus, 5×5 Media and 7 Bucks Entertainment. Serving as executive producers are Silverman (The Office, The Biggest Loser), Chris Grant (Gladiators, King of the Nerds) and Jimmy Fox (Fashion Star, King of the Nerds) of Electus; Craig Armstrong (Survivor, Extreme Makeover: Home Edition, Fashion Star), Rick Ringbakk (The Amazing Race, Fashion Star) and Charles Wachter (King of the Nerds, American Gladiators) of 5×5 Media; and Dwayne Johnson and Dany Garcia (Snitch, The Hero) of 7 Bucks Entertainment. Wake Up Call is slated to premiere in 2014.
 
"We had a wonderful time working with Dwayne 'The Rock' Johnson on The Hero, in which he challenged and mentored a group of everyday heroes," said David Eilenberg, senior vice president, unscripted development for TNT and TBS. "Wake Up Call evolved from our experience on The Hero and is its natural successor, bringing the human spirit of that show home to take on everyday challenges. In this new series, Dwayne will bring his mission of empowerment and change right to people's front doors."
 
"We are super excited to expand our relationship with Dwayne 'The Rock' Johnson and our amazing partners at Turner with Wake Up Call, a perfect programming format that comes out of the best elements of The Hero in a closed-ended transformation show," said Silverman.
 
Few people are better at creating their own success than The Rock, who grew up with next to nothing before finding victory in the wrestling ring. Having built on that brand to achieve global success in the entertainment industry, he is now ready to help people from all walks build their own success stories.
 
In Wake Up Call, The Rock will tackle the worst of the worst and make them into the best of the best with his own personal brand of high-octane motivation. From dysfunctional homes and dead-beat dads to sports teams that don't gel and businesses struggling to survive, The Rock is going to descend into the chaos of everyday problems to pull good people up by the bootstraps, reminding them what hard work, passion and true discipline can accomplish.
 
Each segment on Wake Up Call will be a journey for The Rock and his team, as well as for those who will struggle to live up to The Rock's herculean ideals. With 4 a.m. wake-up calls, emotional reunions and near-impossible goals, everyone who comes in contact with The Rock's electric sense of personal motivation will grow from it, finding inner strength and heart.