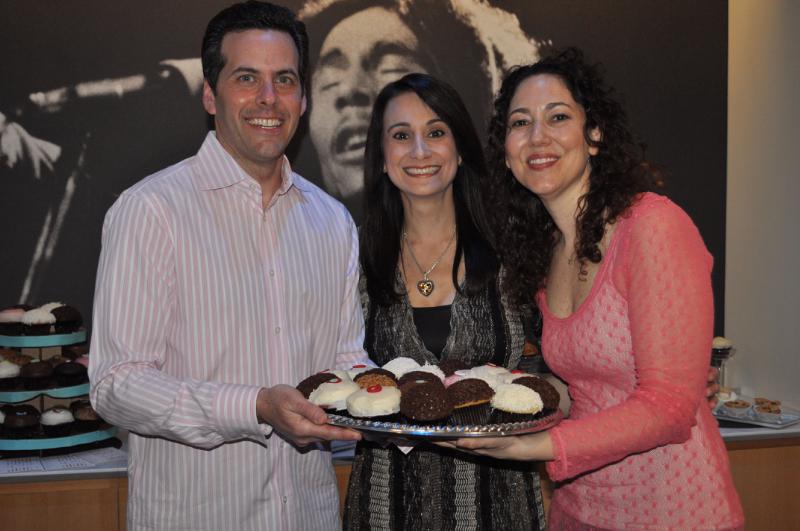 Co-Chair Steve Marks, President & Founder Debbie Zelman, and Co-Chair Suzanne Morrell.(PRNewsFoto/Debbie's Dream Foundation: Curing Stomach Cancer)
Debbie's Dream Foundation: Curing Stomach Cancer (DDF) is proud to announce its third annual DC Cocktails & Cupcakes to increase awareness and raise funds for stomach cancer. The event will take place on Saturday, November 2, 2013 at the Recording Industry Association of America.
Attendees can enjoy inspired cocktails, decadent sweets, live music by The Pietasters and a chance to win fabulous raffle prizes. The event will start at 8:30 p.m. and last until 10:30 p.m. Tickets cost $40 per person, $75 for couples and $30 for students.
Last year's DC Cocktails & Cupcakes event was a tremendous success and more than 100 people attended. The event raised almost $20,000, and DDF hopes to top that by doubling the attendance and fundraising this year. Event attendees have the opportunity to become individual or corporate sponsors to help make Debbie's Dream of curing stomach cancer a reality.
The event co-chairs include Suzanne Morrell and Steven Marks, DDF Board Member.
"I was so excited with the event's success last year and I think this year it will be even bigger and better," said Debbie Zelman, president and founder of Debbie's Dream Foundation. 
Debbie Zelman founded the organization in 2009 after being diagnosed with stage IV stomach cancer. Debbie's Dream Foundation seeks as its ultimate goal to bring attention and action to this important cause. The organization encourages people to spread the word about early detection and screening because if someone is diagnosed at an early stage, the chances of being cured dramatically increase.
For event sponsorship and ticket information, please visit www.DebbiesDream.org or call (954) 475-1200.