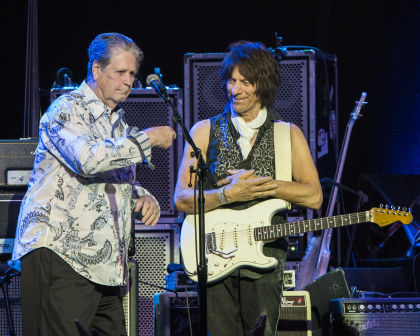 Legendary Grammy® Award winners and music icons Brian Wilson and Jeff Beck will perform at the 7th annual School Rocks benefit concert on Tuesday, October 29 th, 2013, at Chicago's House of Blues. 100% of the proceeds will provide scholarships and community support to inner-city students at San Miguel School Chicago.
Ticket holders to the limited-seating event will be treated to sets from headliners Brian Wilson (co-founder The Beach Boys) and Jeff Beck (Yardbirds), joined by Al Jardine and David Marks for an evening of historic musical collaboration.  DJ A.T. will kick off the evening.
Brian Wilson co-created "Surfer Girl," "I Get Around," "California Girls," and "Fun Fun Fun" on his way to nine consecutive gold albums. He co-wrote, arranged, produced and performed more than two dozen Top 40 hits.
Jeff Beck ranks in the top 5 guitarists in Rolling Stone's "100 Greatest Guitarists of All Time." He has won seven Grammys, and was inducted into the Rock and Roll Hall of Fame twice: once as a member of the Yardbirds and as a solo artist.
Tickets for the School Rocks benefit concert are $300 and available at www.SanMiguelRocks.org or 773.890.0233.
Since 2007, School Rocks benefit concerts have raised $2.5 million for student scholarships. While 97% of San Miguel students live at or below the U.S. poverty rate, their high school graduation rate is 92%.