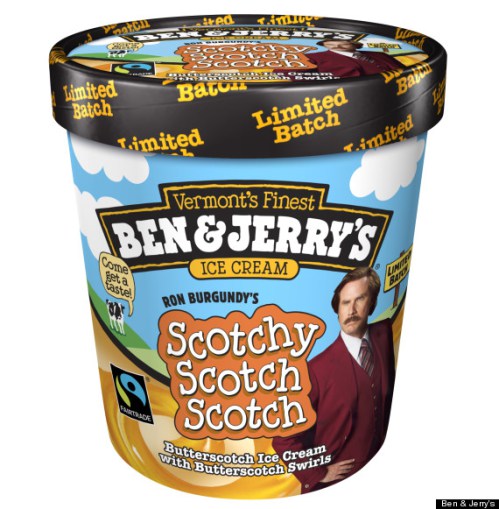 You heard it here first, folks! Ben & Jerry's announces its newest limited batch ice cream flavor, "Scotchy Scotch Scotch." Created in honor of beloved Ron Burgundy, the TV news anchor with a penchant for all things scotch, the flavor is a creamy concoction of butterscotch ice cream with ribbons of butterscotch swirl. Don't act like you're not impressed!
 
"Scotchy, Scotch, Scotch is a delicious ice cream and I hope Ben and Jerry consider my other suggestions," said Ron Burgundy.  "Malt liquor marshmallow, well liquor bourbon peanut butter, and cheap white wine sherbet."
 
The flavor was officially unveiled at New York City's Pier 36 where members of the press attended and witnessed the announcement first-hand. True to the iconic ice cream company's untraditional style, the event kicked off with – what else? – a performance by Nutty The Waterskiing Squirrel, as seen in the first Anchorman film. Nutty's prowess was immediately followed by the appearance of a Ben & Jerry's scoop-truck-turned-Channel 4 News-truck, which rolled onto the scene transporting a legion of blazer-wearing Ron Burgundy look-alikes. After "Scotchy Scotch Scotch" was officially unveiled, attending media and fans were treated to free scoops of the new Ron Burgundy-inspired flavor.
 
Fans anxiously await December 20th, when Ron and his elite news team return to the news desk in "Anchorman 2:  The Legend Continues."
 
"As a company who believes our fans deserve nothing but the best, we have great respect for Ron Burgundy, who takes the same belief to heart," said Lisa Sholk, Ben & Jerry's Marketing Maven, who lead the team on the Scotchy Scotch Scotch flavor project.
 
"Having Ben & Jerry's celebrate the return of Ron Burgundy to the big screen with the introduction of this special ice cream is an exciting and delicious way to build anticipation for the film," said LeeAnne Stables, President of Consumer Products at Paramount Pictures. "We especially enjoyed the sampling process over the last several months to find the perfect Scotchy scotch flavor."
 
Scotchy Scotch Scotch is available now at participating scoop shops across the country. Pints of the flavor will arrive on store shelves over the next few weeks.
 
"To help locate the flavor as it rolls out, we're asking fans of Ben & Jerry's and Anchorman to log onto www.benjerry.com and share when and where they were able to have a taste," Sholk said. "We want fans to be able to experience it all first-hand, because as Ron says, this flavor is 'kind of a big deal.'"
 
With the 70's behind him, San Diego's top rated newsman, Ron Burgundy (Will Ferrell), returns to the news desk in "Anchorman 2: The Legend Continues."  Also back for more are Ron's co-anchor and wife, Veronica Corningstone (Christina Applegate), weather man Brick Tamland (Steve Carell), man on the street Brian Fantana (Paul Rudd) and sports guy Champ Kind (David Koechner) – All of whom won't make it easy to stay classy…while taking New York and the nation's first 24-hour news channel by storm.  Produced by Judd Apatow, Will Ferrell and Adam McKay. Written by Will Ferrell & Adam McKay.  Directed by Adam McKay.
 
To learn more about Ben & Jerry's and to find a scoop shop near you, please visit www.benjerry.com.