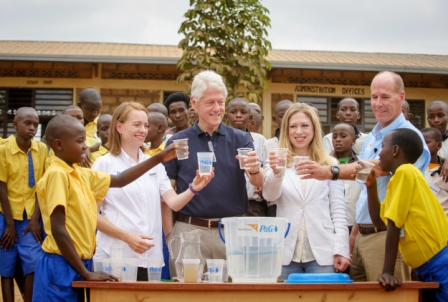 What do President Bill Clinton, Morgan Freeman, Justin Bieber, Scarlett Johannson and Ozzy Osbourne have in common? They are among the people using their social media channels to encourage their followers to support the Flash Flood for Good campaign.
Flash Flood for Good is a three-day social media call to action to raise awareness and funds for children to receive clean water, a Clinton Global Initiative Commitment to Action. Participants are encouraged to donate $10 – either online or through a mobile device – to provide clean drinking water to a child for a year.
Chelsea Clinton will officially launch Flash Flood for Good during her remarks at the Clinton Global Initiative Annual Meeting in New York. For the next three days, a number of celebrity endorsers have committed to posting multiple messages on their social networks.
World Vision is the exclusive beneficiary of the funds generated through the campaign, which will support water projects in Rwanda, Myanmar and Ethiopia. Procter & Gamble will work with World Vision to provide clean drinking water in each of these countries through P&G's water purification packets, which transform dirty and dangerous water into clean drinking water within 30 minutes. 
Celebrity advocates invite the public to visit and join www.flashfloodforgood.org so they can swell the tide for Flash Flood for Good by adding their digital voice to the call to action.  Every person who donates their social media channels during the three-day campaign can help positively impact the lives of children urgently in need of clean, safe drinking water.