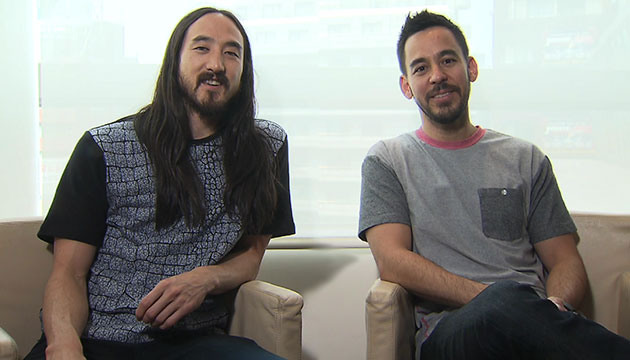 Ever since teasers appeared in August, Linkin Park and STEVE AOKI fans have been tearing apart the Internet in search of the studio version of "A Light That Never Comes," their first song together. Today, from their official websites, www.linkinpark.com and www.steveaoki.com, both artists have finally told fans how to find it: by playing the new, free, 3D Facebook game "LP RECHARGE," which launches today at http://bit.ly/playlprecharge.
 
The song was originally unveiled as a surprise during AOKI's performance at the Summer Sonic festival in Tokyo last month, where he was joined onstage by Linkin Park's Chester Bennington and Mike Shinoda. The shaky, distorted cell phone recordings from the concert were the only records of the song until now.  Today, fans will work to unveil the studio recording of the song, which, once unlocked via the game, will be serviced to radio and will stream on demand exclusively on Xbox Music.
 
The game, a product of the imaginations of Linkin Park and gaming giant kuuluu Interactive Entertainment AG, is a free-to-play action/strategy game featuring band-designed characters and missions.  Linkin Park's Mike Shinoda, an art school graduate with a BFA in illustration, helped design the game.