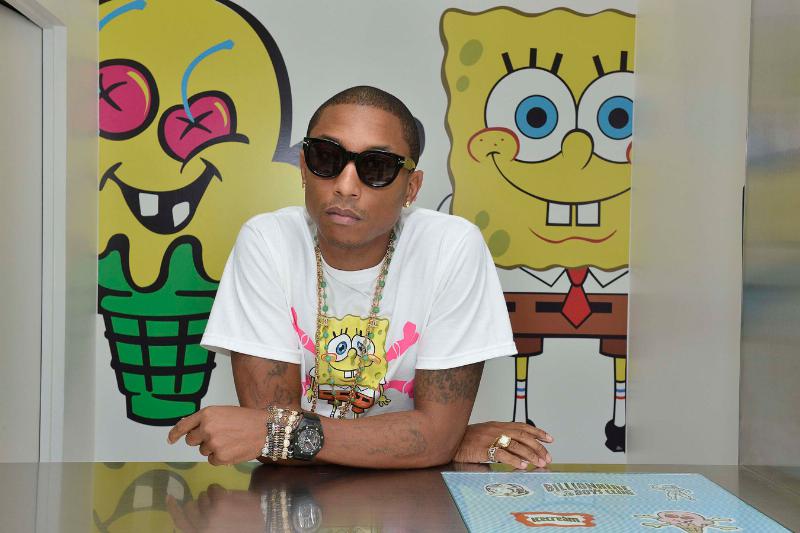 World-renowned musician, producer, fashion designer and self-proclaimed SpongeBob SquarePants enthusiast, Pharrell Williams, has teamed up with Nickelodeon to release a capsule collection inspired by global pop-culture phenomenon, SpongeBob. The brand-new limited-edition SpongeBob X ICECREAM fashion line includes a series of five t-shirts and sweatshirts featuring four SpongeBob-inspired designs.
"I've been a SpongeBob fan for many years and it's an honor to collaborate with Nickelodeon to create SpongeBob X ICECREAM. SpongeBob promotes happiness and optimism and I wanted this line to represent that," said Pharrell Williams.
"We are delighted to introduce our SpongeBob X ICECREAM capsule collection," said Andrea Fasulo, Senior Vice President of Retail and Movie Marketing, Nickelodeon Group. "Pharrell Williams and the ICECREAM brand have a unique ability to reinterpret iconic brands into cool apparel, and the SpongeBob line represents an absolutely stylish line appealing to die-hard fans and trendsetters."
In celebration of the line launch, Pharrell Williams made an appearance at the Billionaire Boys Club flagship SoHo, New York store on Sept. 10. The store front windows feature floor to ceiling SpongeBob X ICECREAM clings, in addition to SpongeBob elements represented throughout the interior, for the entire month of September.
SpongeBob X ICECREAM products are available for purchase at the Billionaire Boys Club webstore and flagship New York and Los Angeles stores and on Karmaloop.com, ranging in price from $38 to $88.