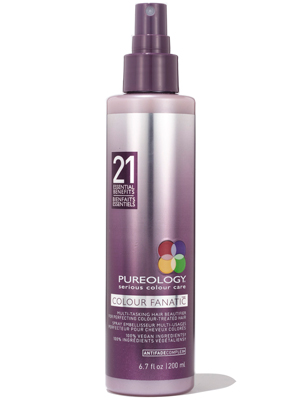 Pureology Introduces Colour Fanatic™, Multi-Tasking Hair Beautifier with 21 benefits to prime, protect and perfect colour treated hair daily after shampoo and condition. According to NPD Group, a leading market research firm, about 8 in 10 beauty shoppers like beauty products that offer multiple benefits in one bottle.
Partnering Pureology's signature AntiFadeComplex™ with fennel seed extract, Colour Fanatic provides antioxidant and UV protection against colour fade. Keravis™ and Xylose provide internal strength and protection from heat styling while a weightless natural oil blend of camelina, olive and coconut oils provide the most deluxe detangle for longer-lasting, perfect-looking colour every day.
Fennel Seed Extract is a natural plant extract and powerful antioxidant, offering environmental protection for the hair.
Keravis™ is a vegetable-derived protein known for its strengthening properties and featured in Pureology products such as Colour Stylist™ and Perfect 4 Platinum™ to help strengthen and fortify the hair. Low molecular weight components penetrate the cortex and moisturize the hair while high molecular weight components form a film on the hair shaft to lubricate and reinforce the cuticle.
Xylose, derived from sugar, protects hair from heat-styling damage due to its insulation properties against extremely high temperatures.
Natural Camelina, Olive and Coconut Oils were specifically selected for their incredible conditioning, smoothing and anti-frizz results. As colour treated hair is extremely fragile, these three oils combine to create an optimal, lightweight blend without weighing hair down.