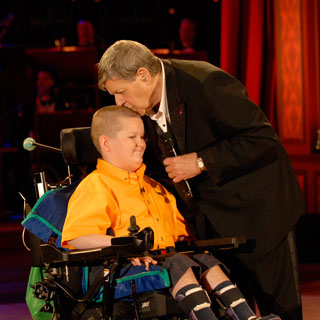 Musical performances and inspiring family stories were featured prominently on Sunday's MDA Show of Strength Telethon. The Muscular Dystrophy Association's telethon aired for two hours on ABC television stations nationwide.
As of 11 p.m. Pacific time, MDA totaled $59.6 million. Telethon donations will be accepted through midnight on Labor Day, when MDA will announce the final total.
For the first time ever, viewers tuning in to the telethon were able to track donations through an online tote board featured on mda.org. The tote consists of generous donations made by the American public through phone, online and texts, and contributions made by national sponsors who help MDA through their own fundraising campaigns leading into the telethon.
"Our heartfelt thanks go to the celebrities and performers who appeared, as well as to our wonderful national and local partners and the MDA families who shared their extraordinary stories of strength," said MDA President and CEO Steven M. Derks. "Most of all, we have to thank the American public, whose continuing, generous support has helped MDA arrive at a point when lifesaving treatments for muscle diseases are on the horizon."
Highlights of the 48th annual telethon included multiplatinum group the Backstreet Boys opening the show with a dual performance of their newest single "In A World Like This" and one of the most popular hits of their 20-year career, "I Want It That Way."
Performances during the nationally broadcast show included: teen pop sensation and 2013 MTV Video Music Awards "Artist to Watch" recipient Austin Mahone performing his hit single "What About Love;" platinum-selling country star Darius Rucker performing his summer anthem "Radio" from his new album "True Believers;" "Glee" actor/singer Matthew Morrison performing "On the Street Where You Live;" and award-winning country music artists Lee Ann Womack and Luke Bryan performing "I Hope You Dance" and "Country Man," respectively.
Additional star power was provided by Ryan Seacrest, Enrique Iglesias, Paula Abdul, hip-hop dance crew Jabbawockeez, "American Idol" runner-up Jessica Sanchez, Kenny Loggins with the Blue Sky Riders, American blues rock band Vintage Trouble, and Universal recording artist and star from "The Voice" Chris Mann.
Additional presenters for the 2013 show included: ABC's Dr. Richard Besser, "Dancing with the Stars" contestant and "Brady Bunch" mom Florence Henderson, Emmy award-winning journalist Jann Carl, Olympic gold medal gymnasts Nadia Comaneci and Bart Conner, and No Doubt drummer Adrian Young and his son, Mason Young.
The telethon saluted its own history by featuring clips of memorable past performances, some fairly recent such as Grammy-nominee Pitbull and his 2012 performance of "Get it Started," and a soulful Ray Charles medley, reaching as far back as the '70s. Viewers were invited to visit mda.org to vote for their own favorite "Memorable Moments" from telethons past, including several featuring longtime telethon host Jerry Lewis.