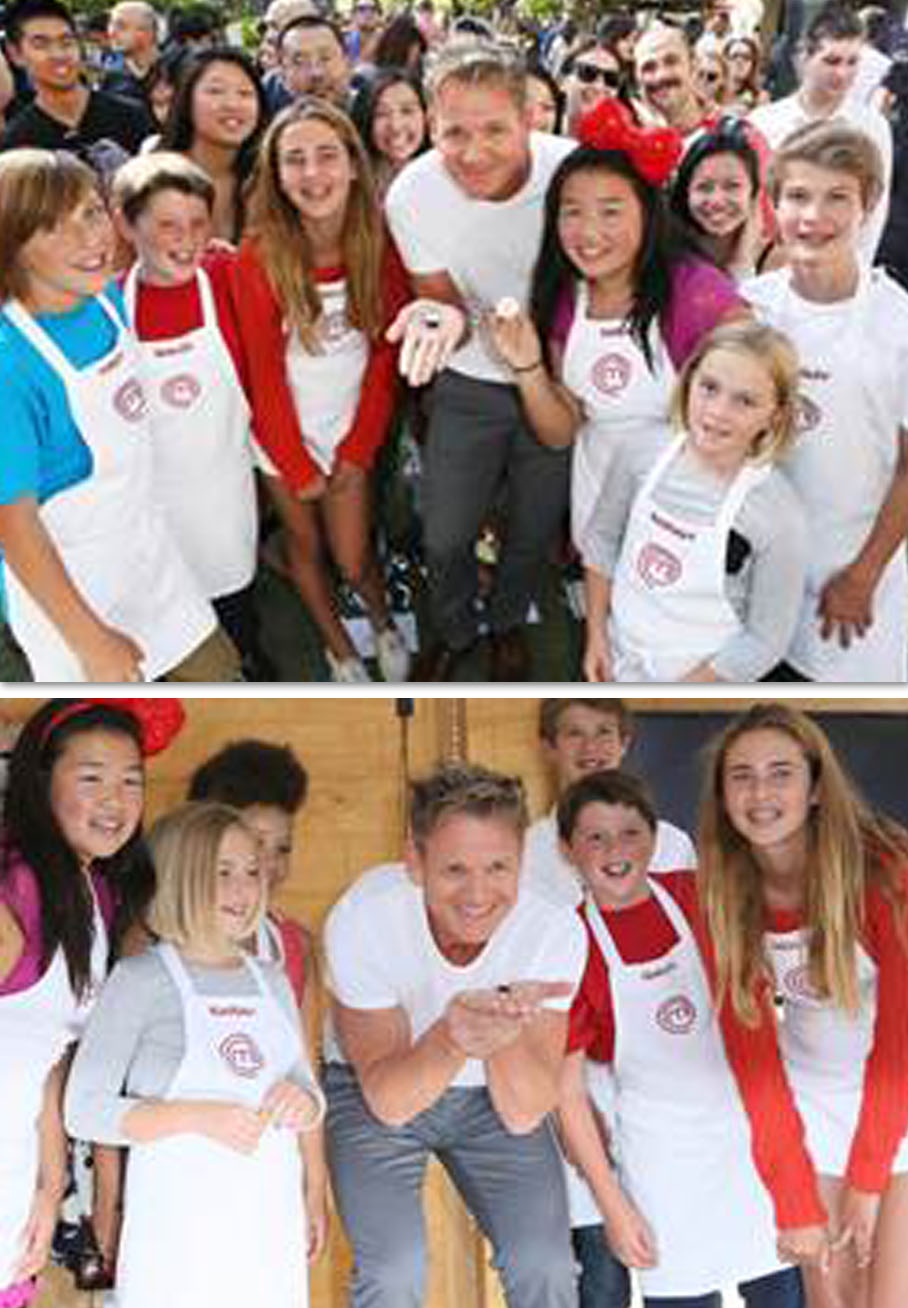 MASTERCHEF JUNIOR, along with Sprinkles Cupcakes, FOX and Shine America, created the World's Smallest Cupcake in celebration of the series premiere, which airs tomorrow, Friday, Sept. 27 (8:00-9:00 PM ET/PT) on FOX.
Award-winning chef and MASTERCHEF JUNIOR host, judge and executive producer Gordon Ramsay and the pint-size contestants unveiled the world's tiniest cupcake at The Grove Park in Los Angeles. The signature Sprinkles red velvet cupcake, nearly the size of a penny, was revealed in an enormous mystery box, and fans in attendance got a taste of mini-cupcakes from Sprinkles.
In the series premiere of MASTERCHEF JUNIOR, 24 of the best junior home cooks in the country between the ages of eight and 13 will create their tastiest seafood, pasta or dessert dish in the auditions round and present it to the renowned MASTERCHEF judging panel: host and award-winning Chef Gordon Ramsay, restaurateur and winemaker Joe Bastianich (Del Posto, Eataly) and acclaimed chef Graham Elliot (Graham Elliot, Graham Elliot Bistro). 12 kids who impress the judges will continue in the competition and move one step closer to becoming America's youngest MASTERCHEF.
MASTERCHEF JUNIOR is produced by Shine America and One Potato Two Potato, and is based on a format created by Franc Roddam and Shine. Shine International handles distribution for the MASTERCHEF format. Elisabeth Murdoch, Eden Gaha, Paul Franklin, Robin Ashbrook, Gordon Ramsay, Adeline Ramage Rooney, Patricia Llewellyn and Ben Adler serve as executive producers. 
"Like" MASTERCHEF JUNIOR on Facebook at www.facebook.com/MasterChefJuniorFOX. Follow the series on Twitter @MasterChefJrFOX and join the discussion at #masterchefjunior.