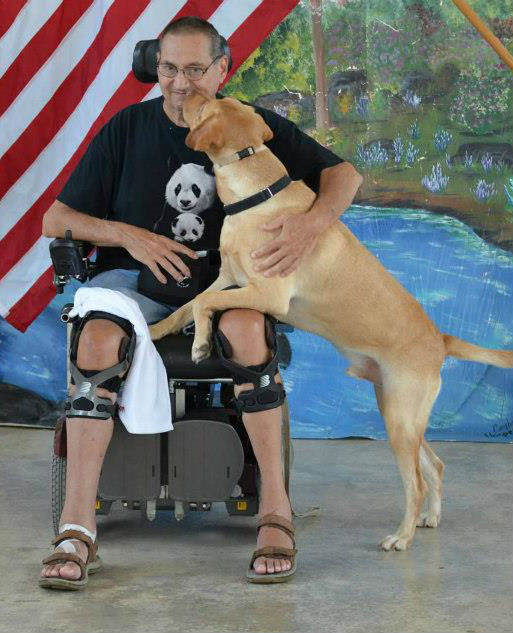 Hunting PLC announced today that the 2014 Hunting Art Prize Charity will be Patriot PAWS Service Dogs, an organization dedicated to inspiring and restoring the physical and emotional independence of disabled American veterans and others with mobile disabilities.
Through the nonprofit, service dogs undergo an extensive training program, where they are taught to perform a wide range of functions, from pulling wheelchairs and opening and closing doors, to picking up and retrieving items and supporting veterans with post-traumatic stress disorder.  They are then provided to recipients at no cost.
"We couldn't be more humbled to give towards such a worthy organization," said Dennis Proctor, Chief Executive of Hunting PLC, the international oil services company that sponsors the Hunting Art Prize.  "It's evident that the staff and volunteers of Patriot PAWS bring a unique and much needed service to our community, and it's inspirational to see all they are doing to support so many of the great men and women who have given so much to serve our country."
Each year, Hunting selects one well-deserving Texas-based nonprofit to receive a donation on behalf of the competition.  The gift includes a direct donation as well as a contribution from Hunting that matches the dollars generated from finalists who sell their art at the annual Hunting Art Prize gala.
Patriot PAWS will be presented with its contribution at a separate event following a gala on May 3, 2014, where the winner of this year's competition will be announced.  
The annual Hunting Art Prize is open to Texas artists who are 18 years of age or older.  Its $50,000 award is historically the most generous annual award in North America for painting and drawing.
For more information about the Hunting Art Prize, visit www.huntingartprize.com.
About the 2014 Hunting Art Prize Charity
Patriot PAWS Service Dogs was founded in 2006 as a nonprofit entity providing service dogs to disabled American veterans and others with mobile disabilities at no cost in an effort to inspire and restore physical and emotional independence.  Depending on the needs of each individual, service dogs complete a customized training program and learn to perform a variety of functions, including supporting veterans with post-traumatic stress disorder.  For further information, visit http://patriotpaws.org