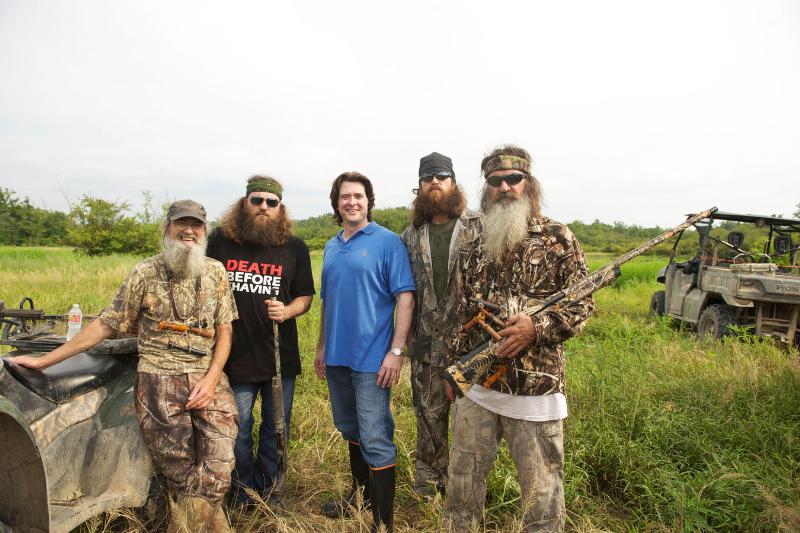 I'm starting to think that the cast of Duck Dynasty is heading for world domination. The Robertson family from A&E's hit TV show have become redneck royalty. Now they are taking on the stuffy art world with a series of hand-signed limited edition lithographs. "This ain't no yuppy art. They're redneck masterpieces that will make you happy, happy, happy," said Phil Robertson.
The first lithograph in the series was released in December 2012. Each limited edition print was hand-signed by Phil, Si, Willie and Jase. "Response has been incredible. Every day we ship prints to fans around the world," said Tammy Young, Vice President of Hunt Studio, publishers of the lithographs. Duck Dynasty currently airs in 40 countries around the world.
The Robertsons chose Michael Hunt, one of the world's premier poster artists, to create their poster art. "He painted Pope John Paul II's portrait for the Vatican and Clinton's portrait for the White House, so we figure he was qualified," said the Robertson family.
The newest print is a tribute to Faith, Family, Football and Duck Hunting, so if you love football and also enjoy killing things, then this is perfect for you," said Phil Robertson.
There are two versions of the print, one for football fans across the country, and the other specifically devoted to "Who Dat" fans. With Saints' Head Coach Sean Payton's highly anticipated return to the game this season, fans in the "Who Dat" Nation are wildly excited. Coach Payton and Jimmy Graham heard about the project and wanted to be involved, so they each hand–signed a special limited edition along with the Robertsons.
"This is the most unique project I have ever been involved with, I love it! I think I am the first artist to ever blend Christianity, football and hunting together in the same painting," said artist Michael Hunt.