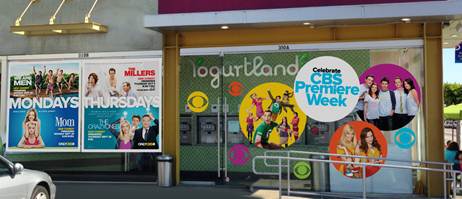 Here's the scoop… CBS is teaming up with Yogurtland on a sweet three-tier fall promotion for the Network's eight comedy series that will kick off this Friday: 
From Friday, Sept. 13 through Monday, Sept. 30, select Yogurtland locations in several major cities will offer CBS comedy series-inspired frozen yogurt flavors and store-wide branding, marking Yogurtland's first in-store takeover by a television network.
On Premiere Monday (Sept. 23) the same participating Yogurtland shops will provide free frozen yogurt from Noon to 6:00 PM. 
All Yogurtland shops throughout the country will accept CBS comedy-branded coupons for a free first five ounces of frozen yogurt on Monday, Sept. 23.  (Coupons can be accessed/printed via CBS's comedy series' Facebook pages and Yogurtland's official Facebook page.)
This fall will be more appetizing than ever for CBS comedy fans!