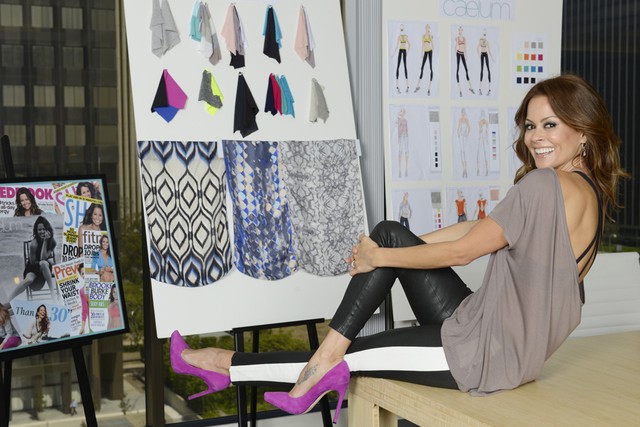 Brooke Burke-Charvet and fashion industry mogul Daniel Guez collaborated to launch their highly anticipated lifestyle and active apparel brand "Caelum." Brooke, a fitness enthusiast and Daniel, an expert in building successful fashion lines such as William Rast with Justin Timberlake and Abbot + Main with Kellan Lutz, have created an apparel collection for the modern athletic woman using fabrics of superior comfort.
"I started Caelum because I believe fitness should be fashionable. Today's women are working out harder and living a healthier, fitter life. I created an acronym from the word Caelum that defines the message of the line: "core, active, evolve, live, uplift and motivate"; I think that says it all. I really wanted to create apparel that was for women like me. Women who have an active, on-the-go life style. Caelum gives us the ability to transition from our fitness routine (without the hassle of a wardrobe change), and then continue with the rest of our daily demands in style".
"Self-care," the belief that every woman needs to take time and do something for herself, is a term coined by Brooke and her underlining philosophy when it comes to her fitness regime and clean eating plan. Her brand Caelum epitomizes "self-care" and stresses that each woman's wardrobe is essential in making her feel confident and beautiful.
Brooke's inspiration for Caelum comes from her local Malibu lifestyle, where the surrounding elements of beach, water and blue sky offer constant inspiration. In creating a line for every woman, Brooke wanted to present a collection that provides practical, fashionable and relaxed pieces that are perfect for "on the go" everyday activities.
"Brooke's active yet fashionable lifestyle was a great inspiration for me.  Developing this collection has been a great experience as it has allowed me to meld the experience of all of my previous ventures. With this collection, we have successfully fused fashion with active sport and entertainment in a way that has not been done before, said Guez"
Offering the perfect balance of performance and style, Caelum's design aesthetic is that of luxe, modern minimalism using soft, stylish and functional fabrics. Providing maximum performance and comfort for a better fit and a better workout, Caelum apparel will help achieve fitness goals while feeling stylish. The line consists of performance tops, sweatpants, pullovers and sports bras. All items are made from nylon, spandex, cotton, modal, and textured knits and retail for under $80.00. Caelum will be available at retail January 2014.