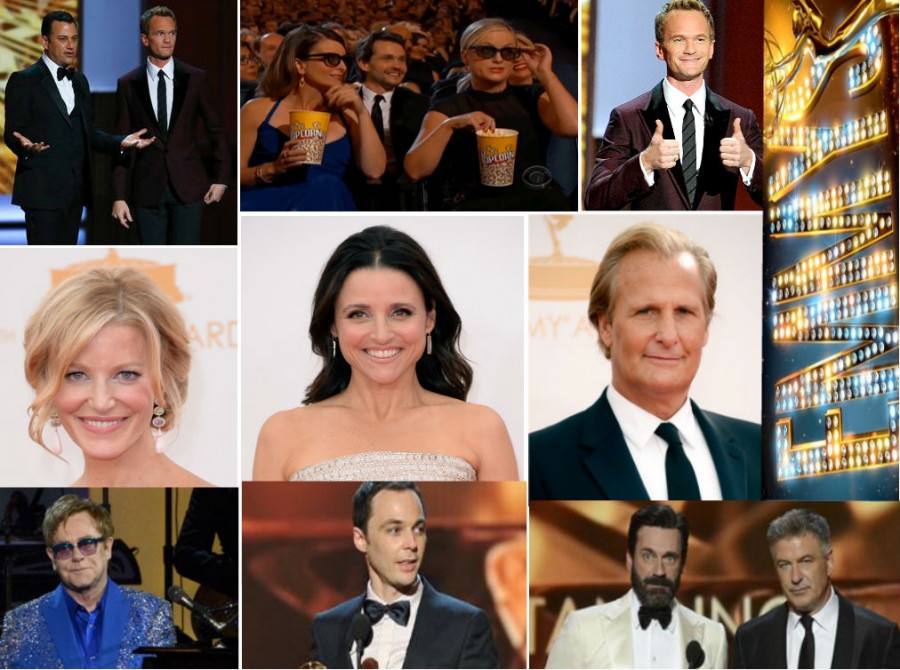 What seemed to be a cheesy start to the 65th Primetime Emmy Awards with host Neil Patrick Harris sitting in front of a plethora of TV screens spewing clips from various nominees… actually turned into an entertaining montage of stage appearances from past Emmy emcees: Jane Lynch, Jimmy Kimmel, Jimmy Fallon, Conan O'Brien, Tina Fey and Amy Poehler. Cut to Kevin Spacey breaking the 4th wall, speaking to the audience in his famous "House of Cards" character. He said with a lifted brow, "It's all going according to plan…"
In between award announcements, several late actors were honored. Robin Williams gave a touching monologue speech to comedian Jonathan Winters. Rob Reiner said goodbye to Jean Stapleton, famous for playing Edith Bunker. Jane Lynch honored her "Glee" co-star Cory Monteith. Michael J. Fox spoke about Gary David Goldberg. Edie Falco gave a very touching speech for her late "Sopranos" TV husband, James Gandolfini.
As for the winners, there was a nice mix and less of a sweep from one particular show. Veep earned great recognition with two major awards and a clever speech in which Tony Hale assumed his role as Julia Louis-Dreyfus' assistant; whispering reminders on who to 'thank' throughout her award acceptance. "Boardwalk Empire," "Homeland," "Breaking Bad" and "Newsroom" all took home major awards. HBO special, "Behind The Candelabra" was clearly a favorite towards the end of the evening. The revolutionary Netflix series, "House of Cards" saw its first big award with Best Director for David Fincher. There wasn't a lot of screen time for host Harris, but a funny SNL type sketch about 'excessive hosting disorder' with his "How I Met Your Mother" co-stars. Half way through, Harris did not disappoint with his predictable song & dance number with Sarah Silverman and Nathan Fillion. The outstanding choreographer nominees put on a beautiful dance number representing all of the nominated series. As always, at the end of the night – they could have cut a good 30 minutes of the show with unnecessary numbers and presentations. To save us from complete boredom, Will Ferrell presented the final awards with his three kids in shorts and a t-shirt.
And the awards goes to…
Outstanding Comedy Series – Modern Family
Outstanding Drama Series – Breaking Bad

Outstanding Supporting Actress Comedy Series – Merritt Wever (Nurse Jackie)
Outstanding Writing Comedy Series – Tina Fey & Tracey Wigfield (30 Rock)
Outstanding Supporting Actor Comedy Series – Tony Hale (Veep)
Outstanding Lead Actress Comedy Series – Julia Louis-Dreyfus (Veep)
Outstanding Directing Comedy Series – Gail Mancuso (Modern Family)
Outstanding Lead Actor Comedy Series – Jim Parsons (The Big Bang Theory)
Outstanding Lead Actress Miniseries/TV Movie – Jessica Lange (American Horror Story)
Outstanding Writer Drama Series – Henry Bromell (Homeland)
Outstanding Supporting Actress Drama Series – Anna Gunn (Breaking Bad)
Outstanding Supporting Actor Drama Series – Bobby Cannavale (Boardwalk Empire)
Outstanding Lead Actor Drama Series – Jeff Daniels (Newsroom)
Outstanding Lead Actress Drama Series – Claire Danes (Homeland)
Outstanding Reality Competition Show – The Voice
Outstanding Directing Drama Series – David Fincher (House of Cards)
Outstanding Writing Variety Series – The Colbert Report
Outstanding Directing Variety Series – Don Roy King (SNL)
Outstanding Choreographer – Derek Hough (Dancing With The Stars)
Outstanding Writing Miniseries/TV Drama – Abbi Morgan (The Hour)
Outstanding Miniseries or Movie – Behind The Candelabra
Outstanding Directing Miniseries or Movie – Steven Soderbergh (Behind The Candelabra)
Outstanding Supporting Actress Miniseries or Movie – Ellen Burstyn (Political Animals)
Outstanding Lead Actor Miniseries or Movie – Michael Douglas (Behind The Candelabra)
For the full winners list go to: http://www.emmys.com/