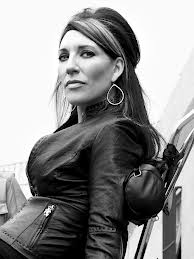 Katey Sagal and the Forest Rangers, who are the "house band" for "Sons of Anarchy" (season six debuts on Tuesday, September 10 on FX) are set to perform at the "SoA" Season six premiere celebration at The El Rey Theatre in LA.
"Sons of Anarchy's" season five notched its most viewers to date, continuing the show's run as the highest–rated program in the history of FX.
The Forest Rangers band is the brainchild of "Sons of Anarchy's music supervisor and musical director Bob Thiele. "The Forest Rangers are much like a character on the show. The music often propels the narrative in ways that dialogue will not. Over the first five seasons, we have discovered a unique sound that is consistent with the environment these characters live and breathe in. Call it The Sound Of Charming! And think about it: how many shows will allow for a nine-minute musical montage with two lines of dialogue!
"Back when Dave Kushner (guitarist with Velvet Revolver) and I were writing the show's theme song, 'This Life,' we got to talking one day about a band we both liked back in the 90's called Plexi. They had a great song called "Forest Ranger." We thought, hey, that would be a cool name for a band! And so The Forest Rangers became the musical mouthpiece for 'Sons of Anarchy.'"