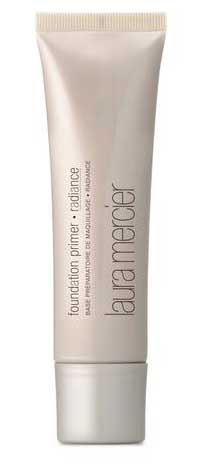 Foundation Primer prepares the face for makeup and helps your "flawless finish" last all day. It is a lightweight, creamy gel that is meant to be used prior to foundation, creating an invisible layer that acts as a buffer to outside elements.
Just as a painter "primes" a canvas, Foundation Primer – the original – was created by Laura Mercier in 1995 to "prime" the skin. Colorless gel leaves makeup looking fresh and color-true the entire day. Ideal for normal and combination skin Vitamins A, C, and E act as antioxidants and protect the skin from harmful, aging effects of the environment. Cooling Foundation Primer in the refrigerator is refreshing for the skin and reduces puffiness.
Gently massage the Primer into the skin until it is no longer wet. This process stimulates the skin and increases circulation, and is one of Laura's trademark techniques with top models and celebrities.
Refines the skin texture so that the face is properly prepared for the application of foundation and other cosmetics.
Acts as a "screen" between moisturizer and foundation, allowing foundation to have a smoother look and longer wear.
Contains a soft focus ingredient that gives skin a luminous quality.
Provides protection from the environment with antioxidants Vitamin A, C and E.
Cools, soothes and refreshes with a botanical blend of Lavender, Orange, Rose, Jasmine, Honey, Green Tea and Geranium extracts.

Laura Mercier Foundation Primer 1.7 fl. oz./50ml Price $ 30.00
AVAILABILY
Available at Neiman Marcus, Saks Fifth Avenue, Nordstrom, Bloomingdale's Sephora, and www.lauramercier.com.