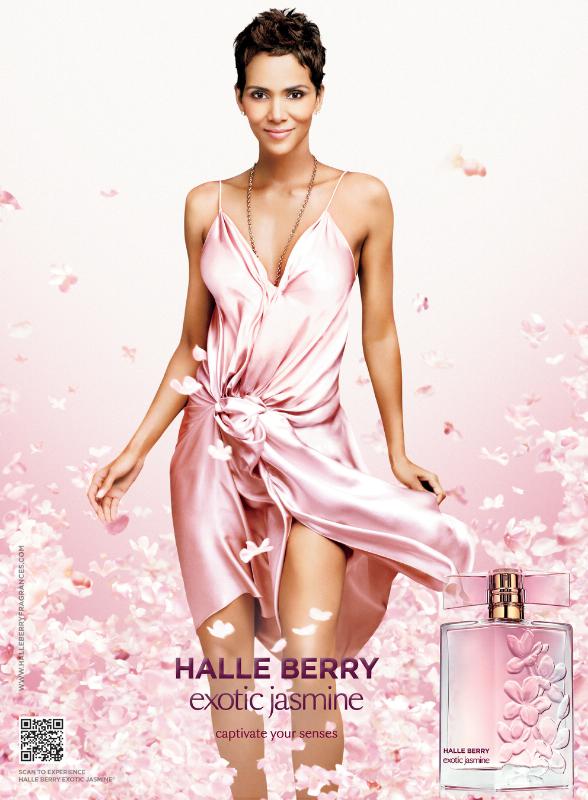 Halle Berry Exotic Jasmine captures the actress's timeless femininity and allure in an exhilarating, irresistible blend—an ode to Halle's radiant beauty and striking presence.
"I'm enjoying such a beautiful, pure moment in my life," explains Halle. "Jasmine is such a timeless, beautiful floral note, and I loved the way the perfumer interpreted it as a modern take on a classic ingredient. I wanted this fragrance to be a reflection of, beautiful, yet empowered femininity."
The scent was developed by Symrise perfumer David Apel.  He was inspired to create a fragrance that evoked Halle's soft femininity and modern sexiness. "I created a scent that combines two particular intriguing facets of Jasmine that most appeal to me," reveals Apel. "First, the intoxicating scent of Jasmine in the air, both opulent and transparent at once. Then, the seductive effect of Jasmine on skin, transporting the wearer to a mystical, sensual place." This duality perfectly captures Halle's own fascinating combination of classic beauty and smoldering allure.
With top notes of fresh Violet Leaf, bright Neroli and airy Cyclamen lead to a captivating heart of blossoming Jasmine Sambac, lush Plumeria Blossom and Fluid Hedione, drawing you in. The fragrance dries down to a warm base of White Cedar, Soft Vetiver and Skin Musk that lingers on the skin.
The Halle Berry Exotic Jasmine Collection
| | | |
| --- | --- | --- |
| Exotic Jasmine Eau de Parfum | 0.5 fl. oz / 15ml | $17.00 |
| Exotic Jasmine Eau de Parfum | 1.0 fl. oz / 30ml | $28.00 |
| Exotic Jasmine Body Mist | 2.5 fl. oz. /75ml | $8.99 |
| Exotic Jasmine Body Lotion | 2.5 fl. oz. /75ml | In sets only |
| Exotic Jasmine Shower Gel | 2.5 fl. oz. /75ml | In sets only |
Available worldwide in August 2013
www.halleberryfragrances.com
www.facebook.com/halleberryfragrances