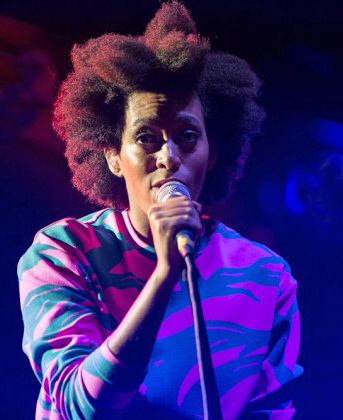 Thousands of people braved the heat and poured into LA State Historic Park this past weekend for FYF Fest. Now in its tenth year, the growing pains of LA's version of Coachella seem to have disappeared. Festival goers migrated fluidly to stages named after the four main characters of the TV series "Sex & the City" to watch over 30 indie, punk, and comedy acts play on both days.
Headlining Saturday night were the Yeah Yeah Yeahs, who drew the biggest crowd of the evening. They played on the Carrie stage. Karen O's distinctive vocals were in pure form, and her performance of hits like "Heads Will Roll" elicited screams from the audience that rivaled O's own.
Smaller bands put on great shows as well, including !!!'s Nic Offer.  He dove into the crowd on the Charlotte stage while playing "dance with girls," but was instead surrounded by groups of moshing men. Washed Out, whose single "Feel It All Around" is the theme song to TV show "Portlandia," was another crowd favorite.
Perhaps in an effort to concede to the fact that so many acts were playing overlapping or conflicting sets, many bands chose to play hit singles early on in their setlists, giving festival-goers the opportunity to move on quickly once the most popular songs had been played.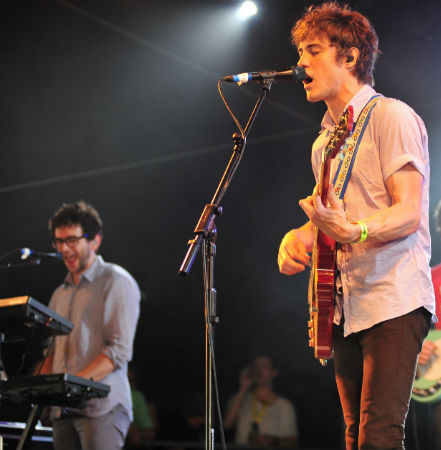 A music festival wouldn't be a music festival without its surprise guests. Sunday headliners MGMT delivered the biggest cameo of the weekend by bringing legendary actor, Henry Winkler, onstage to play the giant cowbell for their new single "Your Life Is A Lie." Despite the thrill of that surprise cameo, it was older hits like "Time to Pretend" and "Electric Feel" from their debut album Oracular Spectacular that had festival goers rushing over to the Carrie stage and crowding onto the dustbowl of a field to watch their set.
Over on the Charlotte stage, Solange also shared headlining duties Sunday night. The indie soul singer started her set with youthful energy, and said that she "wanted to turn LA into one big grind session." She admitted that even though she usually wears 4-inch heels onstage, she wore flats because she really wanted to dance. She asked everyone in the audience to put their camera phones down and "enjoy the beauty of the moment and dance" before launching into her biggest single "Losing You." With moves that were more retro throwback than the precise choreography of her big sister, Beyonce, she showed off an impressive range during a Dirty Projectors "Stillness in the Move" cover encore.
Back at the Carrie stage, My Bloody Valentine, the legendary band that many audience members had been waiting the entire weekend to see, closed the festival. The reunited rockers battled through sound issues during their set to give the eager and excited audience classics like, "Only Shallow." If FYF Fest continues to grow its audience and book legendary and popular acts, Coachella may have a legitimate Southern California rival on its hands in the coming years."
By Joy C. Mitchell