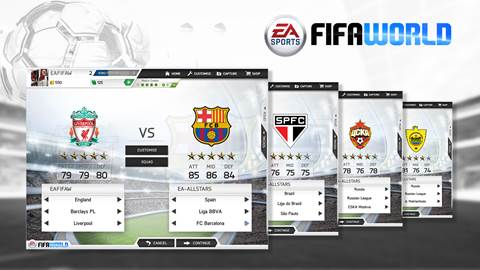 EA announced today that EA Sports' "FIFA World", a new free-to-play, downloadable soccer game for PC is coming to Brazil and Russia.
FIFA World is being developed for fans who are not console gamers in Brazil and Russia.
It will feature the award-winning EA SPORTS FIFA HD console gameplay, FIFA Ultimate Team and Seasons, and over 30 officially licensed leagues, including the Russian Football Premier League, and more than 600 clubs—including 19 officially licensed football clubs from Brazil.
 
FIFA World will be available free to soccer fans and gamers in Brazil and Russia with a broadband internet connection and an average spec laptop computer or desktop personal computer. The new game will be built around FIFA Ultimate Team, the most popular game mode within EA SPORTS FIFA that reflects the best recent real-world performances of the world's best players. In Ultimate Team, fans have the freedom to build their own unique squads to play their own style of soccer, re-shaping their teams based on the real-world performances of their favorite players.
 
Soccer fans across Russia and Brazil are invited to register now to participate in the closed beta development and testing of FIFA World by visiting www.easportsfifaworld.com.
The commercial launch of the game is scheduled for November 2013.