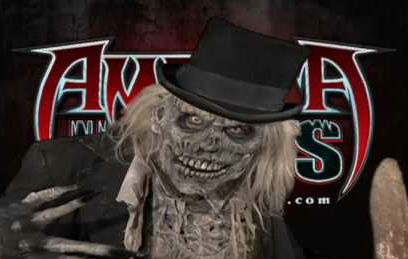 America Haunts, home to more than 30 of the most terrifying, bloodcurdling scream-inducing haunted houses and attractions in the United States, announced its 2013 season opening schedule.
Starting Sept. 6 at The Edge of Hell and The Beast in Kansas City, Mo., fans will get their first look at the newest crop of monsters and zombies from beyond.  Sixteen more America Haunts attractions will open their doors for the season the following week on Friday the 13th (as if that day was not scary enough already).
America Haunts attractions annually lure the bravest souls while providing the most safe, fun and horrifying haunted entertainment.  To maintain the standard of excellence in the haunted attraction industry, each venue works year-round to present guests with an even more spine chilling experience than their last visit.  Staffs featuring high quality technical crews and talented makeup artists and actors combine to provide thrill-seekers the Hollywood-quality scare they seek.
America Haunts Opening Dates
Friday, Sept. 6
Edge of Hell Haunted House
Kansas City, MO
The Beast
Kansas City, MO
Friday, Sept. 13
13th Floor
Denver
13th Floor
Phoenix
13th Floor
San Antonio
Bennett's Curse
Baltimore
Chambers of Edgar Allan Poe
Kansas City, MO
Cutting Edge
Fort Worth, TX
Erebus Haunted House
Pontiac, MI
House of Torment
Austin, TX
The Haunting of Lemp Brewery
St. Louis
Macabre Cinema Haunted House
Kansas City, MO
Necropolis 13
Baton Rouge, LA
Nightmare on 13th
Salt Lake City
Spookywoods
Greensboro Winston-Salem, NC
The 13th Gate
Baton Rouge, LA
The Darkness
St. Louis
The Dent Schoolhouse
Cincinnati
Friday, Sept. 20
7 Floors of Hell
Cleveland
Pennhurst Asylum
Philadelphia
Saturday, Sept. 21
Headless Horseman
Ulster Park, NY
Friday, Sept. 27
Bates Motel
Philadelphia
Creepywoods Haunted Forest
Baltimore
Netherworld
Atlanta
Nightmare New England
Boston
Nightmare on the Bayou
Houston
Scream Zone
San Diego
The Asylum
Denver
The Haunted Hotel
San Diego
The Haunted Trail of Balboa Park
San Diego
The Scare House
Pittsburgh
Saturday, Sept. 28
Thrillvania
Dallas
For information on hours and ticket prices, go to www.AmericaHaunts.com/attractions