420 Lincoln Road has become the place to be for all retailers. Located at the corner of Lincoln Road and Washington Avenue in the famous district of Miami Beach, it's known to have the largest daily footprint on Lincoln Road. A registered Miami Beach landmark, 420 Lincoln Road was originally designed by renowned architect Albert Anis at the site of the Lincoln Road Hotel. Zara's flagship will integrate the property's Art Deco roots with a two-story, rounded glass facade serving as a beacon for South Beach shoppers and fashion fans. Notable Miami architect Allan Schulman helped design the space, and joins Anis and Enrique Norten – the Mexican-born architect who designed the innovative and striking parking garage with an over path that connects the garage directly to the building and offers direct access to Lincoln Road.
420 Lincoln Road, announced today the signing of a long-term retail lease with Zara USA, Inc. to occupy more than 26,000 square feet of space at the brand's new Miami flagship location. The store will inhabit two stories of prime retail offering men's, women's, and children's clothing and accessories.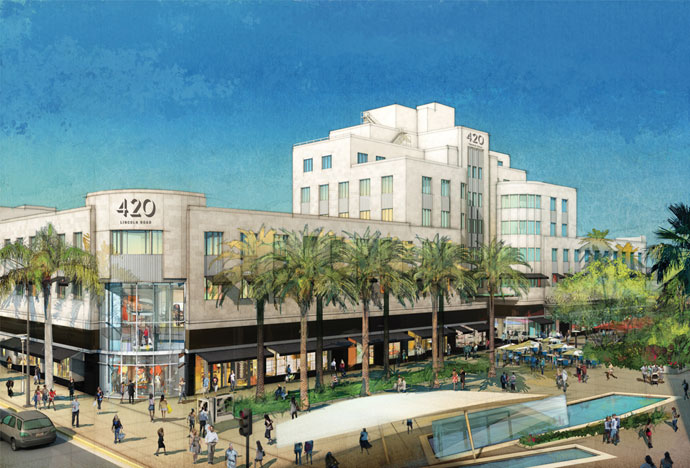 "Zara choosing 420 Lincoln Road as a home for its Miami flagship is a testament to the significance of the property," said Lamys Guerrero, Vice President of 420 Lincoln Road Associates.  "By maintaining the building's historic integrity, we will bring an elevated shopping experience to the already highly active corner."
The addition of the Spanish fast-fashion chain is expected to invigorate the shopping corridor and strengthen the retail experience on the east side entrance of the mall. Zara will join a roster of tenants that currently includes Scotch & Soda, PAUL Lincoln Road, Sunglass Hut, OndadeMar and Starbucks.
Miami Beach's Lincoln Road Mall sees more than 13 million domestic and international visitors annually.
visit www.420LincolnRoad.com.